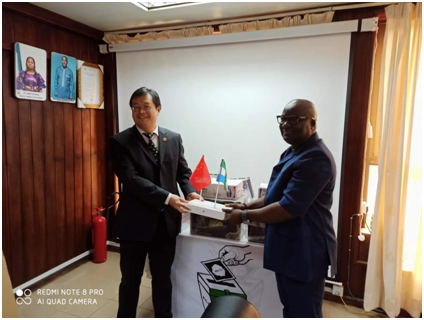 By Abubakarr Harding
Led by Charge d' Affaires, Li Xiaoyong,  a team from the Chinese Embassy on the 28th July, 2022 paid a courtesy call on the Electoral Commission of Sierra Leone and handed over some office furniture and IT equipment to the Chief Electoral Commissioner and Chairman, Mohamed Kenewui Konneh.
The Charge d' Affaires stated how the donation represents a sincere gesture from the Chinese people to support Sierra Leone in its electoral process further expressing optimism that with the joint efforts of the Sierra Leonean people and the international community, the Electoral Commission would successfully carry out its sacred duty to conduct free and fair elections.
He pointed out that there has never been a single democracy model that fits all countries, and that China's socialist democracy is based on its own reality disclosing that the people's status as masters of the country is its real essence.
Li Xiaoyong said that since the 18th Community Party of China (CPC) National Congress in 2012, the Party has gained a deeper understanding of China's path to democracy and the appropriate political systems to apply adding how the Party has developed whole-process people's democracy as a key concept and strived to translate that concept and relevant democratic values into effective institutions and concrete actions.
He revealed that today the Chinese people are enjoying more democratic rights than ever before maintaining that China's democracy is thriving alongside those of other countries in the garden of civilizations.
"China stands ready to contribute its strength and experience to global political progress through the means of cooperation and mutual learning," he stated adding that the Chinese people are willing to work together with the fraternal Sierra Leonean people and other friends around the world to bring to fruition the common values of all of humanity: peace, development, fairness, justice, democracy and freedom.
The Chief Electoral Commissioner, on his part, expressed his sincere gratitude to the Chinese Government for its long-time support to Sierra Leone and to the Electoral Commission in particular stating how the gifts will further bolster the Commission's capacity to conduct a peaceful and fair election in the coming year.
The items donated include over five (5) Huawei Pads, one (1) conference table, twelve (12) conference chairs, one (1) office table and chair and two (2) printers (P1106) with the aim of helping the Commission carry on with its good work and commitment to free and fair elections in the country.
The donation came as a result of a promise made by the Chinese Ambassador to the Commission on the 14th of June 2022 after the ECSL made a formal request for assistance to the Embassy during a courtesy meeting between the Commissioner and the Ambassador.
A