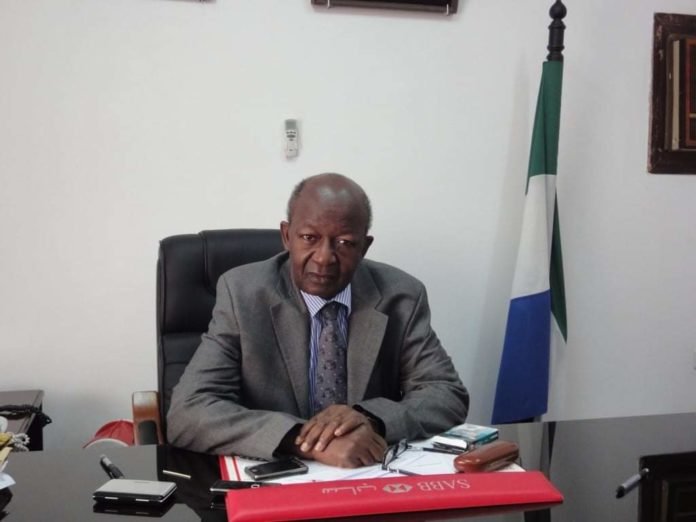 By Alhaji M. B. Jalloh, former Information Attaché, Saudi Arabia and the Gulf States
The Late Ambassador Wusu B. Munu passed away on April, 9, 2022 after battling with a brief illness, that's according to family sources.
I worked with him at the Sierra Leone Embassy in Riyadh for close to four years. During that period, I gained a lot from his wealth of experience as a retired civil servant who later became a diplomat.
He served as Sierra Leone's Ambassador Extraordinary and Plenipotentiary to the Kingdom of Saudi Arabia and Permanent Representative to the Organization of Islamic Cooperation (OIC) from 2008 – 2013. The late man was also accredited to the State of Qatar, State of Oman, Arab Republic of Syria, Arab Republic of Egypt, the Kingdom of Bahrain and the United Arab Emirates (UAE) – that was before the establishment of Sierra Leone diplomatic missions in some of the aforementioned countries.
Mr. Munu joined the Sierra Leone Civil Service in 1965 – a year after graduating from Fourah Bay College. He worked as Assistant District Officer (ADO) in Bombali, Tonkolili, and Kono Districts.
He served as District Officer (DO) in Kenema and Koinadugu Districts. He also worked at State House as Secretary to the Second Vice President during the Siaka Stevens era.
To help expand his experience in the Civil Service, he was given the  opportunity to serve in the Ministries of Defense, Health and Agriculture where he rose  through the ranks of the service – from Senior Assistant Secretary, Deputy Secretary to  Permanent Secretary respectively.
In 1978 – 1979, he was posted to Kenema as the top Civil Servant in the region – Provincial Secretary, Eastern Province.
In 1991 as the country was returning to multi-party system of governance, he served as Secretary for the Peter Tucker Constitutional Review Commission which prepared the current 1991 Constitution of Sierra Leone.
After almost three decades of public service, he retired in 1992. Nine years after retirement from the service, he became a Member of Parliament (MP) for the then opposition All People's Congress (APC) party, representing Bombali District.
He spent six years in Parliament and served as a member of the following Parliamentary Oversight Committees: Public Accounts, Mineral Resources, Agriculture and Food Security, Local Government and Rural Development. He was also Parliamentary Chairman of the Committee on Privileges. He left Parliament in 2007 after the APC victory and became the country's Ambassador in 2008.
After five years as Ambassador, he wrote to His Excellency the President, Dr. Ernest Koroma to relieve him of his duties as Ambassador for personal reasons – an action many said was unprecedented.
Excerpt of the late Ambassador's letter to the President reads:
"Your Excellency, I want to thank you immensely on behalf of my wife and the rest of my family and on my own personal behalf, for giving me the opportunity to serve our great country, Sierra Leone, under your wise and progressive leadership,"
He furthered: "Accordingly, I humbly request Your Excellency, that you recall me home from my present diplomatic assignment. After my recall, I want to assure Your Excellency that I will always be at your disposal, should you require my services."
To my knowledge, Ambassador Munu was the first Sierra Leone envoy to request a recall. Well, his Letter of Recall  came a few months later. Before he left, he took formal leave of the Saudi Minister of Foreign Affairs, his colleagues in the diplomatic circle and the Heads of Government and Organizations to which he was accredited, as required by diplomatic practice. He also left a detailed handing over notes for his successor, Alhaji M.S. Kargbo who also died in December, 2020 after serving four years as Head of Mission in Saudi Arabia.
Before Ambassador Munu left, he called a meeting of a cross – section of Sierra Leonean nationals in Riyadh and admonished them to respect the laws of the land and always be law-abiding.
In a voice laced with mixed emotions of euphoria and sadness, the Ambassador said, parting with people you have spent a long time with is a very difficult situation. But he also hastened to point out that: "It's a sad moment, but I have to quit and give chance to others to serve the country."
As far as I know, the late Ambassador performed his diplomatic and national duties with dignity and excellence within the limits of his ability. During his tenure as Ambassador, Sierra Leone benefitted a lot from the Saudi Government and other multilateral partners such as the Islamic Development Bank (IDB), the Saudi Fund for Development (SFD), to name but a few; in the areas of health, education, agriculture, infrastructure development, amongst other sectors.
It was also during his tenure that Sierra Leone received a high profile visitor from Saudi Arabia. Ambassador Munu facilitated the visit of Saudi Arabia's billionaire Prince, His Royal Highness, Prince Alwaleed Bin Talal Bin Abdul-Aziz Al Saud, of the 'highly reputed' Kingdom Holding Company, (KHC) in June 2013.
During that visit, former President Ernest Bai Koroma and Prince Alwaleed discussed bilateral ties, social and economic issues, as well as potential interest for investment in the hotel and tourism industries in Sierra Leone. The Prince also donated $1m (One million US dollars) to fund maternal and child health and provide youth  employment for Sierra Leone.
Though the Kingdom of Saudi Arabia and Sierra Leone had enjoyed bilateral and economic relationship spanning from the late 1970's, the visit of HRH Prince Alwaleed to Sierra Leone was a re-assurance of the concrete relationship that had existed between the two countries.
Ambassador Munu is gone, but he would be remembered for his numerous accomplishments in the Sierra Leone Foreign Service. He left a great legacy.
As the family is now making arrangements to lay the late man to rest in his native home of  Mabunduka in the Sanda Tendaren Chiefdom, Northern Sierra Leone on Friday, 15th April, 2022, I beseech the Almighty Allah for his soul to rest in peace. May Allah give the family the fortitude to bear the irreparable loss.