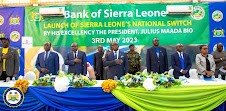 Interswitch, Africa's leading technology-driven company specializing in innovative payment and digital solutions, has announced a strategic partnership with Sierra Leone Commercial Bank (SLCB), one of Sierra Leone's premier financial institutions.
This collaboration marks a significant milestone for the nation's financial system as both organizations unite to transform payment solutions and introduce cutting-edge financial products to the market.
The partnership combines Interswitch's advanced payment solutions with SLCB's extensive banking expertise, enabling the provision of a range of state-of-the-art financial products, including ASPFEP Integration, ATM driving, Integration to the National Switch, Connection between the Switch and the Banks' Core Banking Application (CBA), mobile and internet banking applications/platforms and Card Production (Visa & Prepaid Cards). These solutions offer substantial benefits to customers in Sierra Leone, including streamlined payment processes, reduced transaction costs, faster settlements, enhanced interoperability across various payment platforms, and seamless transacting capabilities.
SLCB customers will also enjoy the convenience and security occasioned by the Thales Payshield hardware, POS terminals, and FEP software licenses. These protocols and licenses will bolster the overall infrastructure and security of payment systems. This collaboration aims to revolutionize the financial landscape and empower individuals, businesses, and government entities in Sierra Leone and throughout Africa.
Mitchell Elegbe, Group Managing Director of Interswitch, expressed his enthusiasm for the partnership, emphasizing their belief in the power of digital innovation to drive economic growth and financial empowerment. He cited "the strength of the success of our collaboration with the Sierra Leone Commercial Bank is ground breaking, and we are excited about the outcomes. As other banks in the Sierra Leone market prepare to get Integrated onto the National Payment Switch, we assure them of our availability to provide support for a seamless integration and faster positive outcomes. The feat we have achieved with SLCB is a testament to our expertise and commitment to driving financial inclusion and facilitating seamless digital transactions across Africa".
Sierra Leone's growing economy and evolving financial sector present significant opportunities for innovative payment solutions, and this partnership aims to tap into this potential by delivering enhanced financial services and driving economic growth.