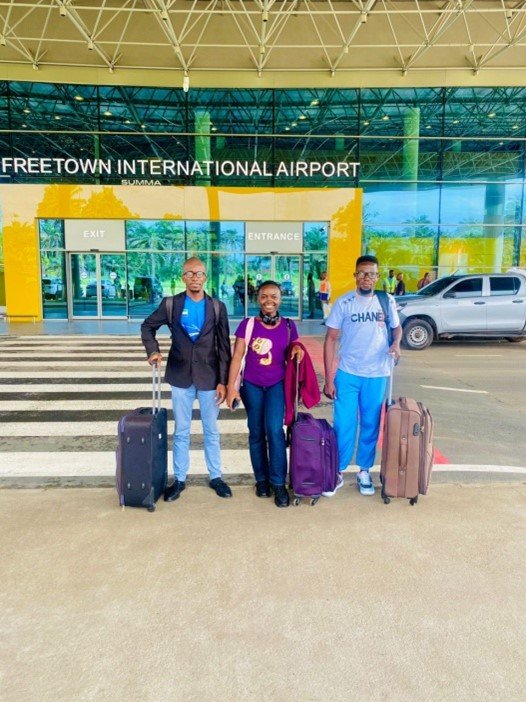 By Foday Moriba Conteh
Fahamu Africa, a Pan-African Organization dedicated to supporting the movement for social justice, extended an invitation to three journalists in Sierra Leone, namely Foday Moriba Conteh, Reporter at The Calabash Newspaper, Alusine Rehme Wilson, and Patricia Sia Ngevao Reporters at the Awoko Newspaper to partake in a face-to-face field trip and exchange meeting with journalists and activists from different countries.
Through the "Engaging Media and Minorities to Act for Peacebuilding (EMMAP) Project", Fahamu Africa, in collaboration with the Media Reform Coordinating Group (Sierra Leone) and Media Platform for Environment and Climate(Ghana), is working to raise public awareness about the intricate connections between minority issues, community tensions, and conflict. Their ultimate goal is to contribute to the establishment of sustainable peace in Ghana, Senegal and Sierra Leone.
To achieve that aim, Fahamu Africa, in partnership with Minority Rights Group International (MRI) and with support from the European Union, organized a five-day face-to-face training and field trip for  media practitioners.
This transformative experience commenced in Ziguinchor, Senegal on Tuesday, September 19th and will end on Sunday, September 23rd, 2023. During this period, participants will delve into the impact of conflict on local communities, examining how it could lead to isolation, migration, refugee situations and hinder development. Furthermore, they will work collectively to identify potential solutions to these pressing issues.
In addition to this enriching training program, the journalists have also been invited to participate in an exchange meeting between their peers and activists. This meeting, scheduled for September 25th and 26th, 2023, in Dakar, aims to establish a network that enhances media coverage while fostering peace. The overarching goal is to strengthen regional engagement between journalists and civil society actors regarding migration coverage. Participants will engage in discussions about the role of the media as a catalyst for peacebuilding rather than conflict generation.
The participants arrived in Dakar, Senegal on September 18th, 2023, for a 10-day journey to be filled with knowledge-sharing and networking. In adherence to COVID-19 standard operating procedures outlined by the Government of Senegal and the World Health Organization (WHO), both meetings will be held in-person.
This initiative reflects a collaborative effort to empower journalists and activists, enabling them to contribute significantly to peacebuilding efforts across regions.