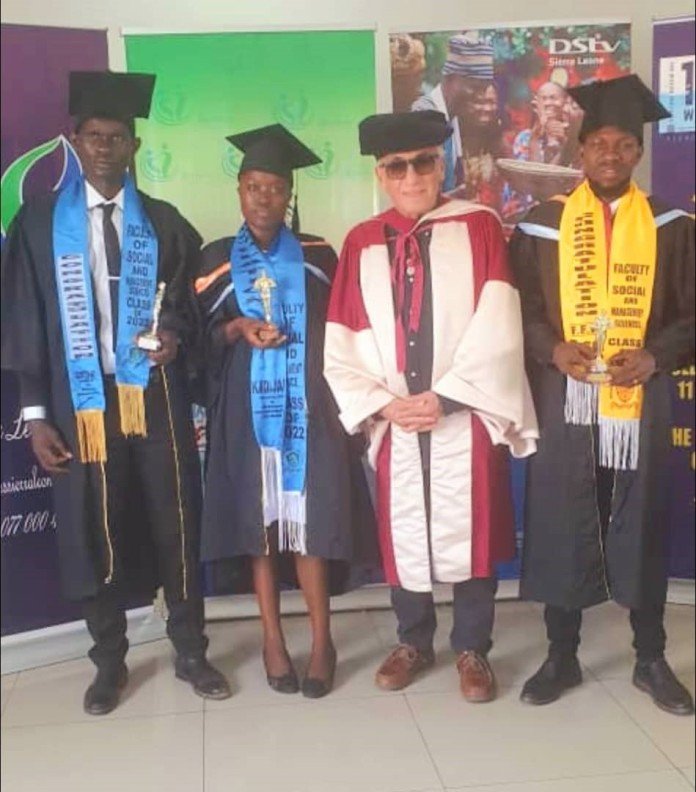 By Amin Kef (Ranger)
The Adonis Abboud Trust Fund (AATF) has served as a catalyst of academic excellence at Ernest Bai Koroma University of Science and Technology. This year, three students, one female and two males, graduated as the best students with grade points of 4.62 and 4.66 respectively. The students credit their success to the AATF academic excellence awards, which, according to them, provided motivation and encouragement to strive for greatness.
Kadijah Yabom Conteh, the best female student, graduated with a Bachelor of Business Administration-General, scoring 4.62 FGPA and achieving Distinction in both her project and internship. She expressed her delight in being recognized for her hard work and shared the strategies she employed to excel, such as avoiding social media and networking with relevant people on campus.
Similarly, Francis Foday Kamara and Ibrahim Conteh-Moi, who both graduated with BSc Economics and Bachelor of Business Administration-Human Resources Management respectively, were inspired by a previous recipient of the AATF award. The two males had the same FGPA of 4.66 and both achieved Distinction in their project and internship. They acknowledged that the road to success was challenging, as they had to compete with experienced and hard-working students, but they were determined to succeed.
During the presentation ceremony, the CEO of AATF, Adonis Abboud, explained the significance of the award and how it is benefitting eight universities nationwide.
This year, the first university to be awarded was the EBK University in Magboruka, with three students receiving the award due to having the same grade points. In the coming weeks, AATF will continue with the rest of the universities, including Njala, FBC, CHOMAS, and UNIMAK. The initiative, which started seven years ago, aims to recognize deserving students who have excelled in their studies and provide critical data for the Ministry of Education to grant scholarships.
As the sun rises on a new day, the AATF continues to shine a light on academic excellence, nurturing and inspiring the next generation of scholars to reach for the stars and achieve greatness. The awards ceremony was a celebration of hard work, dedication, and perseverance, and the students' success serves as a testament to the power of education and the transformative impact of the AATF.