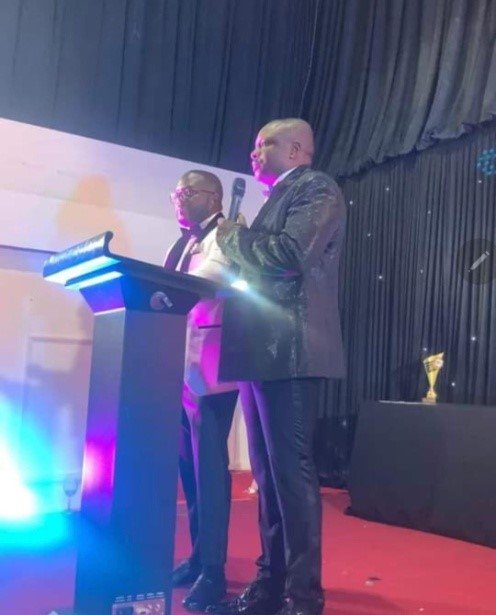 By Amin Kef (Ranger)
During the AWOL UK Annual Achievement Awards Ceremony which was held on the 1st July 2023 at the Royal Regency Banqueting Suite  on 501 High Street North, Manor Park in  London, the  Global Chairman of the organization, Amb. Anthony Navo Jnr, addressed a galaxy of important and eminent personalities who converged to grace the important event that was characterized or laced with elegance, pomp and pageantry.
Amb. Anthony Navo Jnr started by succinctly intimating that he is very excited as the Global Chairman of AWOL to be in their midst again as they celebrate people and enterprises that are excelling and making a difference in what they do.
He heartily thanked AWOL UK (the Executive and members) for working hard to keep the AWOL flame burning.
The Global Chairman underscored that the biggest success story for them is the creation of AWOL Chapters in the Diaspora: in the UK, in the US, in Europe, in Australia saying now Africa is also joining the wagon as The Gambia is on the verge of launching their own AWOL Chapter.
Amb. Anthony Navo Jnr maintained that the AWOL brand is very unique as it provides a platform to not all bring Sierra Leoneans together in unity but it also, most importantly, give them an opportunity to give back to Sierra Leone, build the next generation of role models, and inspire positive mindset and change.
He disclosed that since it was officially launched in 2001 by the late revered President Dr. Ahmed Tejan Kabbah, AWOL is probably the only social organization in Sierra Leone that has stood the test of time and has survived this long, and has the potential to not only exist forever but also bring about the change and transformation they so desire in the country.
"Like we always say, we do not own AWOL; it is owned by us the people of Sierra Leone; we are just custodians at the moment," he stated followed by a thunderous applause from the audience adding how they will leave some day and other Sierra Leoneans will take the baton and continue with the good work and ideals of AWOL and even do and achieve greater things.
He expressed pride that they were able to establish such an institution for the good of all Sierra Leoneans.
The AWOL Global Chairman said back home in Sierra Leone, the parent body has been going through some challenges since they last organized the prestigious and popular National Achievement Awards in 2019 but was quick to say that, however, challenges are meant to be surmounted and make one stronger.
Amb. Anthony Navo Jnr said they are pleased to announce the return of the National Achievement Awards this year in December furthering how they  have also announced their comeback with the feeding of homeless children in the Northern District headquarter town of Makeni in commemoration of the Day of the African Child on June 16th, 2023.
He, on behalf of the Global family of AWOL, congratulated their members who contested for various positions in the June 24 public elections in Sierra Leone- Hon. Chernor R. M. Bah, Mohamed Gento Kamara, Kweku M. S. Lisk Esq., and Majid Aminu saying they are very proud of them.
"With all our differences, biases and prejudices, AWOL is our convergence hub where we see ourselves as one, and we work together in the interest of Sierra Leone," he complimentarily stated.
The Global Chairman said beyond that, he also want to take the opportunity on behalf of the family also, to congratulate His Excellency President Julius Maada Bio on his re-election and to wish him well in his second term.
He also congratulated all those that have been announced by the ECSL as winners, including Madam Yvonne Aki-Sawyer.
According to him, AWOL will continue to complement the effort of the Government of Sierra Leone in nation building maintaining that in AWOL their political party is the green, white and blue- SIERRA LEONE.
He concluded by informing all that it is going to be a night of celebration underscoring that they are delighted to be part of  history and went on to congratulate all nominees and eventual winners in advance enjoining all to continue to celebrate excellence and inspire others to rise up and shine.