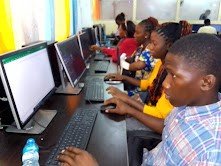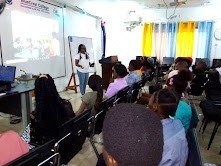 Millicent Senava Mannah
One of the leading Information, Computer and Technology Colleges in the country, Bluecrest College, has organized a one day free tutorial known as a Boot Camp for over 20 High School leavers on the introduction of Information Technology and on how to choose a career.  The tutorial was held on the 29th of July, 2023 at the College which is situated on Wilkinson Road.
The Marketer for Bluecrest College, Iba Quiwa, intimated that the Boot Camp was organized for High School leavers in order for them to get acquainted with I.T. According to her, some of the pupils have little or no idea on how to use or operate a computer further disclosing that organizing a boot camp of the nature of the one that was held recently will help them to know the basics about computer.
She maintained that the beneficiaries were drawn from different Secondary Schools in the country, disclosing  how some applied through their Online Application Portal, while on the other hand, letters were also sent to various schools for them to attend.
Iba Quiwa noted that, the Boot Camp was also geared towards getting the school leavers  choosing   careers in IT, and how it would be a good decision if they do so  as it is a very marketable area of study.
According to her, the College offers Bsc in Information Technology, Diploma in Information Technology, Graphic Design, Data Analytics, and Microsoft Office programmes amongst others.
"We are the best IT College in the country, because we focus more on the practical aspect than theory .Some of the pupils want to have careers in IT and this is the perfect place for them," Iba Quiwa stated.
She pointed out that anyone who wants to have a career in IT should only call any of their numbers they see on billboards, flyers and so on, for application.
One of the participants, Fatima I. Marah, said she has learnt a lot from the training. According to her, prior to this time, she had little or no idea about how to use a computer, but how with the training she can now type from a computer and how she would go home and teach her friends.
Another participant, Boston Munda, also said he now knows how to operate a computer and how to use basic software applications like Microsoft Word, Excel and others.
The pupils commended the College for conducting the Boot Camp for them which, according to them, has imparted their lives.
Climaxing activities during the Boot Camp was the awarding of certificates to the participants.