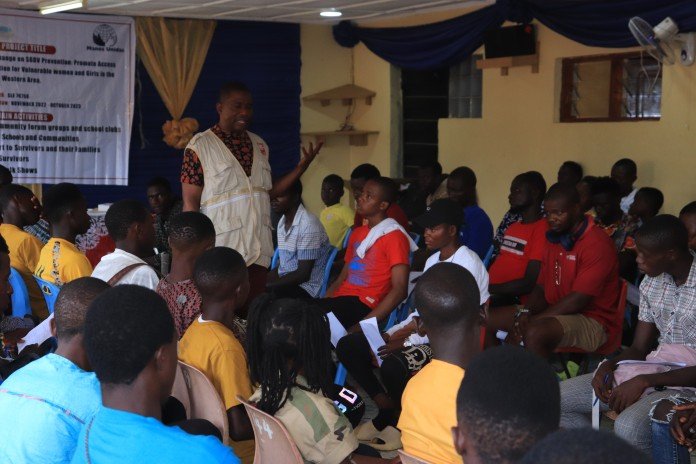 By Abubakarr Harding
Caritas Freetown, on the 9th May, 2023 continued its Quarterly Engagement with Men and Boys from 20 different communities in the Western Area at Twin Hall in Hastings Community. The training session was aimed at strengthening behavioral change for the prevention of Sexual Gender-Based Violence (SGBV) and promoting access to justice and hygiene education for vulnerable women and girls in the Western Area.
The training was part of Caritas Freetown's ongoing efforts to end SGBV in the country. SGBV continues to be a major concern in Sierra Leone, with women and girls being disproportionately affected. The situation is further compounded by a lack of access to justice and limited awareness of hygiene practices.
To address these challenges, Caritas Freetown engaged with Men and Boys to enlighten them on the importance of behavioral change in preventing SGBV.
The training covered topics such as the rights of women and girls, the role of men and boys' in responding to cases of SGBV, and ways to create a more enabling environment for women and girls to access justice and hygiene education, which was facilitated by Enoch Manasary and co-facilitated by Lucky Bah and Patrick Deen Kamara.
The training was well received by the participants who were given the opportunity to express their opinions and views relating to SGBV. They also promised to commit themselves to avoiding doing the act themselves and to help spread the knowledge in their different communities for them to create a more enabling environment for women and girls to actualize their fullest potentials and meaningful impact society.
Idriss Gibson Mansaray, Project Manager of Caritas Freetown, stated that the purpose of the engagement was to promote justice and hygiene education for SGBV victims, as well as to engage men and boys in the fight against SGBV.
He stated that the project will focus on engaging women and girls separately from men and boys, in order for each group to understand their own roles in society and the ways in which they may be contributing to stop the violation of women and girls.
He noted that the engagement with women and girls revealed a lot of the issues they face due to the actions of men and boys.
Mansaray emphasized that in order to end SGBV it is crucial for all actors to be engaged and educated about the effects of SGBV on women and girls and the penalties that follow perpetrators.
He concluded by emphasizing that women and girls are facing inequality everywhere they go and it is crucial for men and boys to respect them further encouraging everyone to treat women and girls with respect, as they are mothers, sisters, and aunties who deserve to be treated with dignity and fairness.
Ibrahim Bangura, a student from Abdul Talil Academy Rogbangba, expressed his gratitude to Caritas Freetown for engaging them in SGBV training. He admitted that he had no idea about SGBV and had witnessed his colleagues violating girls. However, the training helped him understand that violating girls is not acceptable and he plans to talk to his friends at school and at home to stop the act.
Sheikh Alusine Turay from Campbell Town, Waterloo, also expressed his appreciation for the training session. As a religious leader, he had witnessed many men from his community violating women and he plans to use what he has learned to preach to his congregation and engage with schools in his community.
Barrister Christiana Carter (Davies-Cole), a Gender activist and model Ambassador of Caritas Freetown, provided important insights into the laws relating to SGBV in the nation. She stated that the Government has set up laws that criminalize sexual offenses and anyone who violates those laws will be punished accordingly.
Barrister Christiana Carter (Davies-Cole) went on to highlight some of the crimes of SGBV, which includes sexual penetration, rape, improper dress code, and other forms of gender-based violence. She emphasized the seriousness of those crimes and the negative impact they could have on the victims and the society as a whole.
As a gender activist and Ambassador for Caritas Freetown, Barrister Christiana Carter (Davies-Cole) is committed to raising awareness about SGBV and promoting gender equality. She urged individuals and communities to take action and speak out against SGBV and to ensure that the laws that criminalize such offenses are enforced.
She said that the laws that have been established by the Government to address SGBV are important in protecting the rights of victims and holding perpetrators accountable.
"It is through the collective efforts of individuals, communities and organizations that we can work towards preventing SGBV and creating a more just and equal society for all," she averred.