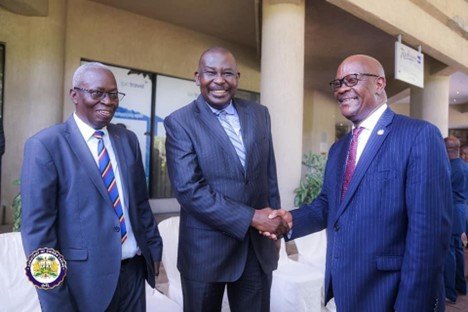 His Lordship, the Chief Justice, Desmond Babatunde Edwards,  on the 17th November, 2023 at Radisson Blu, Aberdeen in Freetown,  strongly condemned any form of discrimination against individuals living with HIV/AIDS as well as pledging to safeguard their rights in alignment with the Sierra Leone Constitution.
At a pivotal two-day consultative dialogue themed: "Promoting Social Justice and Equal Rights in the Context of HIV and AIDS in Sierra Leone," Justice Edwards, the keynote speaker, emphasized that every person in Sierra Leone is entitled to fundamental human rights and freedoms as enshrined in the nation's constitution.
Highlighting Section 15 of the Sierra Leone Constitution, Act No. 6 of 1991, the Chief Justice underscored the imperative to respect the rights of individuals infected or affected by HIV/AIDS, asserting that it is both unacceptable and unlawful to disregard those rights.
Referring to the National AIDS Commission Act, No. 11 of 2011, Justice Edwards reaffirmed the guarantees provided by the law, including access to HIV prevention and treatment services, protection of confidentiality and prevention of discrimination in various spheres of life.
Identifying stigma and discrimination as hurdles in the fight against HIV/AIDS, the Chief Justice expressed concern about the setbacks caused by such societal attitudes.
In a message of solidarity, US Ambassador, Bryan David Hunt, reiterated the United States' commitment to advocating for a world where dignity, equality and justice prevail for all, irrespective of HIV status. Ambassador Hunt emphasized the US's readiness to support efforts to combat discrimination and stigma.
Addressing the audience, Dr. Austin Demby, Minister of Health and Chairman of the ceremony, commended the National AIDS Secretariat and partners for organizing the dialogue. He praised the collaboration between the Executive and the Judiciary, asserting that such partnerships strengthen national responses to HIV/AIDS and ensure equitable access to healthcare for all Sierra Leoneans.
Abdul Rahman Sesay, Director General of the National AIDS Secretariat, emphasized the collaborative efforts between his institution and the Judiciary, stemming from the Chief Justice's commitment declared on World AIDS Day in 2022. He emphasized the dialogue's potential to either establish an Equity Court or expedite the law's enforcement to counter discrimination against persons living with HIV/AIDS.
The dialogue, attended by Judges and Magistrates on the first day, is poised to pave the way for a more equitable and just society for those affected by HIV/AIDS in Sierra Leone.