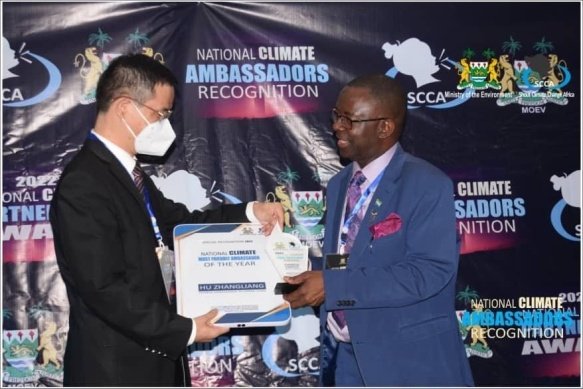 By Amin Kef Sesay
H.E. Hu Zhangliang, the Chinese Ambassador to Sierra Leone, was the proud recipient of a "2022 National Climate Partnership Award" on behalf of the Chinese Embassy on the one hand during an auspicious ceremony where he was also honoured with a Special Recognition as the "National Climate Most Friendly Ambassador of the Year". The award and recognition were bestowed by the Minister of Environment, Professor Jaward on behalf of Shout Climate Change Africa.
After receiving the award and recognition, Ambassador Hu extended his deepest appreciation to the Ministry of Environment and Shout Climate Change Africa for organizing such a meaningful event with a view to enhancing people's awareness of climate change and exploring ways of action.
He congratulated H. E. President Julius Maada Bio and the Sierra Leonean Government and people on the hard efforts and the important achievements made so far in dealing with climate change
Ambassador Hu  revealed how  H.E. President Xi Jinping has developed an important thought on ecological civilization which emphasizes on green development, and has guided the Chinese Government and people in formulating ambitious polices and effective strategies for action. He pointed out that China played a crucial role in the reaching of the Paris Agreement on climate change.
He recalled how H.E. President Xi Jinping solemnly announced that China would strive to peak CO2 emissions before 2030 and achieve carbon neutrality before 2060.
According to him, setting such high targets for itself, China would have to complete the world's highest carbon emission intensity reduction and achieve transition from carbon peak to carbon neutrality in the shortest time of 30 years in global history as it takes developed countries 50 to 60 years to achieve the transition, the ambassador said.
He briefed the audience on China's achievements and cooperation with Africa in tackling climate change and disclosed how China had signed 15 cooperation agreements with 14 African countries to date and said within the framework of the Forum on China-Africa Cooperation(FOCAC), China will help Africa build 10 projects for green development, environmental protection and climate action so as to support the building of a "Great Green Wall" in Africa.
The Ambassador introduced the outcomes of China-Sierra Leone cooperation on climate change, mentioning the building and repairing of several mini hydro-power stations, the donation of solar lights to local communities, the invitation of officials to attend relevant seminars in China and the encouragement for the Chinese companies in Sierra Leone to actively participate in tree planting and energy saving undertakings. He affirmed that China will continue to expand such cooperation with Sierra Leone.
Ambassador Hu concluded by saying  with all the countries in the world making serious and combined efforts under the principle of "common but differentiated responsibilities for developed and developing countries" the world would be able to take the challenge and succeed in building a community with a shared future for mankind.