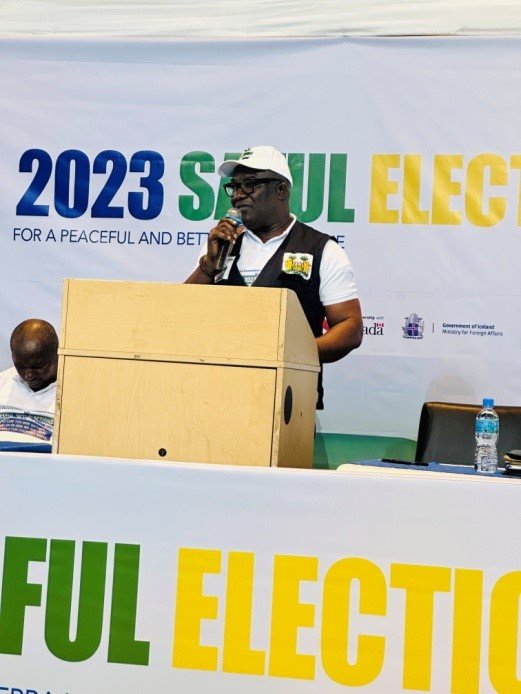 By Amin Kef (Ranger)
Addressing a cross section of print and electronic media journalists at the Bintumani Conference Centre at Aberdeen on Wednesday, 21st June, 2023, on his institution's preparedness on what he referred to the "2023 Saful Elections", which he said was deliberately chosen because we want a calm, peaceful and credible elections, the Chief Electoral Commissioner for the Election Commission for Sierra Leone (ECSL), Mohamed Kenewui Konneh, introduced electoral personalities from various parts of Africa, whom he said are here to support him because they know what it means for a Chief Electoral Commissioner at this crucial stage in the electioneering process in any country. He disclosed that the venue will be the meeting point for election related issues.
In giving an update of progress so far made he revealed that the Commission has received a total of 19,612 reprinted voter registration cards.
According to him, they include 4,779 nominated candidates, 11,302 voters relocated, 3,301 photo-less cards and 230 transfers. He furthered how the reprinted cards will be distributed to all ECSL offices starting on Thursday 22nd June, 2023. He added that these cards could be accessed from those offices by those who were affected as a result of discrepancies. However, voters should present their attestation documents and photo less voter registration cards before their reprinted cards will be issued to them.
He, also, pointed out that potential electorates, whose personal details were captured, could still be eligible to cast their votes as long as those personal details could be traced at Polling Stations.
The Election Management Boss further disclosed that 3,374,258 ballot sheets have been delivered with 5% buffer for contingency in line with the number of registered voters.
Mohamed Konneh intimated that ballot papers for the conduct of the 24 June 2023, Presidential, Parliamentary and Local Council elections together with the Result and Reconciliation forms (RRF) were received on Monday 19 June 2023, delivered by a special cargo jet at the Lungi international Airport adding that the consignments have been delivered to the 16 electoral districts in readiness for the conduct of the elections on Saturday 24 June 2023.
He also intimated how Tactile Ballot Guide (TBG) were received also on Monday 19th June 2023 saying  two TBGs will be made available per election and a total of 8 will be available for use in every polling station.
With regards the final Voters Register, he said electronic copies have been given to political parties. He said those given to political parties are not the same as theirs maintaining that such was deliberate in order to forestall any form of malpractice in terms of manipulating the details to gain political advantages which will negatively impinge the credibility of the elections.
He pointed out that early voting for pilgrims on Hajj took place on the 15th June, 2023 at all 16 District Offices across the country.
He intimated how the Training of polling and tally center staff was completed on the 21″ June 2023 adding that deployment of both sensitive and non sensitive materials to district is at the advanced stage.
The ECSL Chief Electoral Commissioner said booth construction and the installation of ramps and planks is on-going at the polling centers in order to make them disabled friendly for the polling and counting process and Regional Result tally center set up completed and the transmission between the Regional Tally centers and the National Tally Center has also been completed and tested.
On the issue of not adhering to the demand of the main opposition APC's demand for the setting up of district tally centres, Konneh was very categorical in stating that the infrastructure is not available and that the Public Elections Act does not make provision for that.
He also said that accreditation of election stakeholders is ongoing at both national and district levels saying that for security reasons it is advisable for stakeholders to go through the right channels to gain accreditation.
During the question and answer session, the Chief Electoral Commissioner pointed out that the ballot papers used by the Pilgrims during the early voting were printed in Sierra Leone but have certain features that are different from the ballot papers printed in South Africa. Responding also to a question why removal of date of births from the Voter Register, he said out of experience there was a lot of forgeries of births of dates which complicated the issue of  First Time Voter eligibility and do not want a repetition of that. He also assured of maximum security throughout the process.
He ended up assuring firmly that the Presidential, Parliamentary and Local Council Elections will take place as scheduled on Saturday 24th June, 2023 in all 11,832 stations and in 26 districts across the country further admonishing all to go out on Polling Day to Vote Saful, Go Home Saful, Wait for the Result Saful, Celebrate if you win Saful, And if you lose Sidom Saful also enjoining all to: "Mek we all join han for bil the Country Saful."