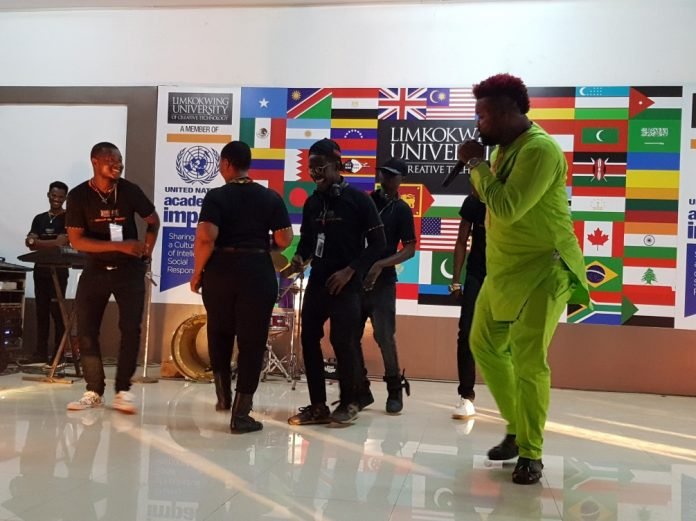 The Limkokwing University teamed up with Emmanuel Rogers aka Artical 4yoh for an entertainment concert.
The Department of Sound and Music (DSM)entertainment concert in African Style ended in a grand style with the theme "If you believe it do it".
The concert which took place past Thursday at the University auditorium showcased God's given talents through music.
The concert was witnessed by top Sierra Leonean artists and music directors.
Emmanuel Rogers aka Artical 4yoh, gave a brief talk on how to rebrand the entertainment industry.
His six points were: 1. Proper Research. 2. Love the industry and what we are doing. 3. Full finance support from the government. 4. Enforcement of the copyright law that was passed in Parliament. 5. The need of them getting Ministry of entertainment and 6. They need the attention of the people by attending shows and buying their music.
Limkokwing University Sierra Leone Head of Faculty of Sound and Music, Lesly Tshekedi, pointed out that the faculty of Sound and Music Technology wants to bring a new taste in Sierra Leone entertainment industry for musicians not to only focus on music but the technology aspect as well.
He spoke about the campus multi-purpose recording studio for the students.
He disclosed that the 43 students who are ready for internship were divided into 10 groups and each group should produce one album comprising of 10 songs.
He explained that some of the students are artists but they only have background about singing while the University produces music using software.
"This kind of program is not offering in other universities in the country. I am happy that the outcome of the songs is very good," he added.
He went on to say they also teach students how to organize event, promote and manage event as most of their work are practical base and as such, the student do lots of practice.
"Some are very good in song writing, producing and sound engineering. Our program are integrated"
The students performed some of the best songs they have produced as a group and some of those songs are played in and out of the country currently.
Ibrahim S.M. Bangura, a final year student of DSM and one of the event planners said they want to change the narrative of Sierra Leoneans who feel that nothing good is in the entertainment industry.
"There is more in entertainment. Some say if you go for such course you are not going for a better course, people rather preferred Law, Medicine among others, even though some of them are not call for such but because their parents want them to do such courses they go for them. We want to educate them to know the essence of doing such a course," he maintained.
He spoke on how Sound and Music can generate income for themselves and the country GDP.
He mentioned countries like the United States and Nigeria where entertainers have created huge impact on their countries; GDP.
"We want our sisters and brothers to learn from that and do the same for our country. From the theme, we are encouraging all to practice what they have learnt and what they have passion for."
The students performed different types of music ranging from Reggae , Hip Pop, R&B, African and Local Sierra Leonean songs.
Christopher Alim Conteh, Chairman of the Sierra Leone Musicians Union spoke about piracy which he said is still a big challenge.
He encouraged the students not to be discouraged because they must earn their living from their talents.
"Don't be discouraged, build up the faith, talent is the greatest thing God gave to man. Music is not just joy it is a career and that career goes along with the very passion," he concluded.