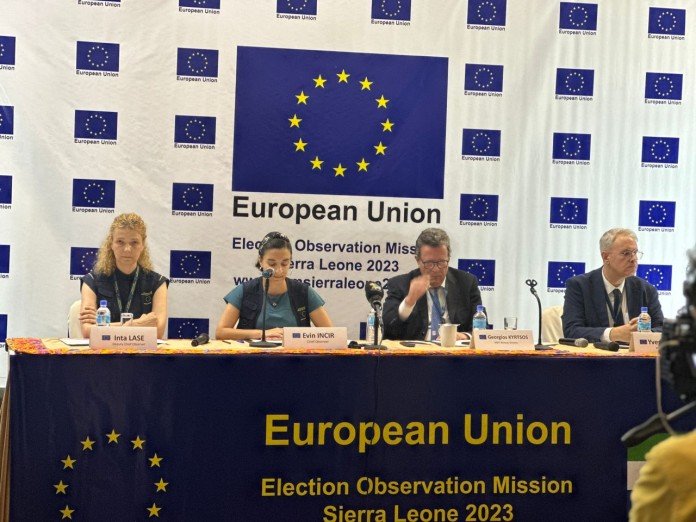 By Amin Kef (Ranger)
The European Union Election Observation Mission (EU EOM) held a press conference on 26 June 2023 at the Radisson Blu Conference hall in Freetown, where Chief Observer Evin Incir, Member of the European Parliament, presented the preliminary statement regarding the 24 June general elections in Sierra Leone.
Incir praised the voters' dedication and resolve in exercising their democratic rights and recognized the positive contribution of citizen observers at polling centers. She also acknowledged the introduction of a 30% gender quota for party lists, which enhanced women's participation in political life.
However, Incir noted that the Electoral Commission for Sierra Leone (ECSL) was operationally prepared until election day, when delays and omissions in delivering sensitive materials occurred without proper explanation. The ECSL's lack of clear, timely, and comprehensive communication with the public led to uncertainties and reduced trust in the electoral process. In the highly polarized political environment, Incir stressed the importance of ensuring full transparency and unimpeded access to observers during the tabulation of results.
The 2023 elections were conducted under a revised electoral framework, with legal reforms following broad stakeholder consultations in line with international good practices. The ECSL registered candidates for all races in an inclusive process, with 13 candidates contesting the presidential election and 877 running for parliamentary seats. However, the absence of caps on campaign donations or expenditures favored wealthier candidates, and incumbency misuse hampered the level playing field.
While freedom of movement, assembly, and expression were largely respected during the early campaign period, politically-motivated attacks closer to election day limited political participation in several districts. The disproportionate use of force by security agencies heightened tensions, and divisive content on social media fueled discord. On a positive note, the national fact-checking initiative iVerify vigorously countered disinformation, and media debates in all districts enabled voters to make informed choices.
Georgios Kyrtsos, Head of Delegation of Members of the European Parliament, urged Sierra Leone's leaders and citizens to address any disputes arising from the electoral process peacefully, using available legal avenues, and to preserve the hard-won peace achieved over the past 21 years.
The EU EOM mission, present in Sierra Leone since 11 May, will continue to observe the tabulation of results and will publish its final report, including recommendations for improving the electoral framework, in the coming months.