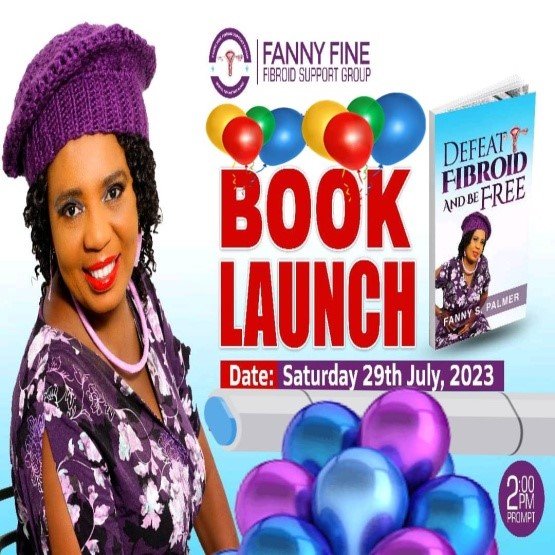 By Foday Moriba Conteh
Fanny S. Palmer, popularly known as Fanny Fine, a patriotic Sierra Leonean who is currently based in Ghana is poised to launch her book titled: "Defeat Fibroid and Be Free" on Saturday 29th July, 2023 in Accra, Ghana. It is said that the work is an informative and life-transforming book that brings healing and hope to every woman suffering from fibroid across the world.
According to the author, Fanny Fine, the book is a patient's guide that provides answers to all of the unseen and unspoken questions related to fibroid, the signs, symptoms and alternative treatments and management of the ailment.
She revealed that the book contains a true-life story of her struggles and living experiences with fibroid for several years and called on all to recommend her book to every woman suffering from fibroid who are not  used to the suffering associated with the condition and should not forget to seek help from people who care about women's health and well-being.
About the Author
Fanny S. Palmer (Fanny Fine), who happens to be the author of the book, is a mother to many people. She is a fibroid fighter and survivor who almost died from a fibroid surgery some years ago. Her life is a living testimony of God's power. She is a Minister of the Word, beautiful, disciplined and a dynamic public figure and speaker. She is also a great legend and a positive-influencer with a delightful personality.
Aunty Fanny holds a Master of Arts Degree from Fourah Bay College (FBC) and a Bachelor in Education Degree (Division 1) from the University of Sierra Leone.
She has worked as a Senior Government Officer in the Ministry of Social Welfare, Gender & Children's Affairs in Sierra Leone and was a radio and TV Broadcaster. She translated and sang the Sierra Leone National Anthem and Pledge in Krio, the first in the history of Sierra Leone.
She is also a Proprietress of schools in Sierra Leone and Ghana and has also served as a part-time lecturer and an Examiner for the WAEC in Sierra Leone.
Aunty Fanny has won several awards for her immense contributions towards nation-building and she is a You Tuber with a channel name, Fanny Fine TV.