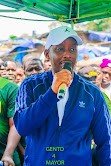 By Amin Kef (Ranger)
The Central One Football Association (COFA) Inter-Community league will kick-off on Sunday 20th August 2023 with the defending champions Krootown Rangers FC taking Bambra Tong at the Parade field, in Freetown.
In a meeting with the representatives of various community teams, Mohamed Gento Kamara, owner of Gento Group of Companies, pronounced that his company will sponsor the league for the second time.
He first told them that the elections are over and they are all now one family like it was before the election, adding that the code name for the league is "Non-Violence and No to Drugs."
The COFA inter-community league, he said, acts as the pre-season for players to prepare for the premier and the division1 leagues.
Before the start of the league, he said each of the 40 community teams will get Le5M (old Leones) as seed money to prepare their players for the league.
In the knock-out stages, each team will get Le3M each. The winner of the league will go home with Le50 M, Runner-up Le30M and the third-place team will get Le20M.
As the league target non-violence, the best behaved team will get a cash prize with the amount to be announced later, warning the players strictly not to register for two teams as he said a defaulter will be banned from playing in the COFA league.
Besides the financial benefits, he said each team will get 20 sets of jerseys with the name Gento Group of Companies written on them.
Before the address of the prime sponsor, the Chairman of COFA Phlipson Cline-Cole elaborated on the rules and regulations of the league which he said they should all strictly go by.
He reiterated that they will penalize any player that will register for two communities at least for 2 years. Because of the above clause, all community teams have been requested to send photos of players they have signed in the league WhatsApp forum for all to see.
The community representatives agreed in the meeting that default players, apart from the penalty that will be instituted, the two communities will ask them to repay the money he took from them as payment to register.
Chairman Cline-Cole emphasized that anyone involved in riotous conduct either on the field or outside will be penalized, noting that all match protests should be done within 48 hours for the committee to look into and give verdict.
He said that the Committee's verdict in any complaint or appeal will be final and there will be no other appeal after the verdicts.