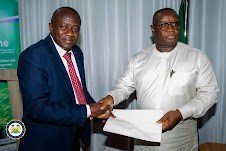 By Amin Kef (Ranger)
The Government of Sierra Leone has lauded the pivotal efforts of the Independent Commission for Peace and National Cohesion (ICPNC) in the run-up, during, and aftermath of the multifaceted elections held on June 24. This disclosure was made on Tuesday, August 29, 2023
Expressing deep appreciation, the Government acknowledges the significant strides taken by the ICPNC in spearheading post-election reconciliation, particularly in fostering a platform for constructive discourse between the ruling Sierra Leone People's Party (SLPP)-led administration and the opposition All People's Congress (APC). The Government emphasizes the merit in tapping into the strength of local institutions and influential voices to champion the cause of peaceful dialogue and national harmony, identifying this as an instrumental facet of Sierra Leone's democratic landscape.
The Government maintains that it had received the outcome of the ICPNC's engagements with various political parties, including the prominent opposition force, the All People's Congress, with enthusiasm. The issues underscored in the report have been keenly observed and acknowledged by the Government.
In a resounding call, the Government urges the ICPNC to collaborate with other benevolent domestic and international entities, such as the Commonwealth and regional African organizations, which have demonstrated a keen interest in supporting Sierra Leone's post-election dialogue initiatives. The Government assures the ICPNC of its unwavering support throughout such an endeavour.
The Government hails the earnest and patriotic pursuit of common ground amidst the political diversity, particularly in the aftermath of the June 2023 elections. These efforts echo the sentiments expressed by President Julius Maada Bio in his address to the 6th Parliament, wherein he underscored the vital essence of cohesion and unity in the realm of politics. President Bio articulated, "In this Parliament where no party has attained a two-thirds majority, the need for dialogue and negotiation resonates with utmost urgency. We must find common ground within the political divides…"
In a resolute proclamation, the Government assures both its citizens and the global community of its steadfast commitment to the perpetuation of peace and unity. It is with this resolute intent that the Government urges all stakeholders, including the All People's Congress, to heed the rallying cry for peaceful and constructive dialogue, thus affirming Sierra Leone's unyielding dedication to collective progress and harmonious coexistence.