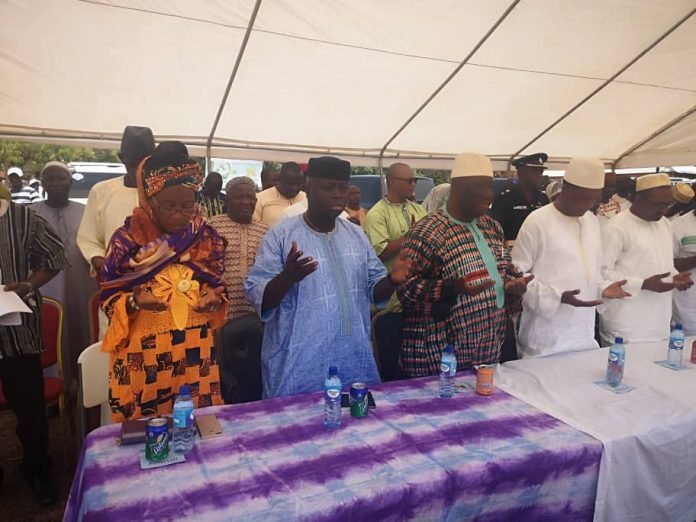 Dr. Mohamed Juldeh Jalloh, Vice President of Sierra Leone has presented fifty million Leones to the Jamiatul Birr, Bashara Mosque in Port Loko City.
He made the presentation during a fundraising program organized by the United Communities of Bashara Mission in Port Loko on the 26th April, 2019. He informed the Jamaat that the reason for honouring the invitation was to attend the program despite his busy schedule to participate and solidarize with the Muslims, not only in Port Loko City, but in the district as a whole.
The Vice President acknowledged the challenges limiting development in the district that were highlighted by the Mayor of Port Loko City, His Worship, Abu Bakar Zozo Kamara, such as poor roads, incomplete stadium, cold room for fish among others. The Vice President stressed that Port Loko is far behind other districts in terms of development as a result of the challenges highlighted by the Mayor. He added that Port Loko District has suffered from injustice for quite some time. Dr. Jalloh promised to work with relevant ministries, departments and agencies and other stakeholders from the district to salvage the problems, in order to give the district a new facelift.
Vice President Jalloh admonished the people of Port Loko to learn the culture of supporting stakeholders from the district who contribute to the development of the district. He maintained that a reciprocate support from the Port Loko people to deserving stakeholders who contribute towards the district's development, will motivate the stakeholders to do more. He described the people's support as vital for any indigene, especially political indigenes. He pledged his continuous support to the district and encouraged Muslims to use the mosques to bring all indigenes of Port Loko together in a ceremony like fund-raising, irrespective of their political affiliations.
Alhaji Hassan Kamara – National President of Jamiatul Birr told his audience that Bashara Mission will support any government in Sierra Leone and accept any president chosen by God, stating further that leadership comes from God. He informed the congregation that the mission has six hundred branches across the country.
Hon. Ibrahim Rashim Bundu – former Leader of Government Business in the last Parliament, referred to Islam as a supreme religion, because of the five daily prayers and the unique sitting position of all Muslims except the Imam.
Abu Koroma – Resident Minister North expressed his admiration for the political tolerance displayed by Port Loko politicians to sit together and attend a program. He noted that such political tolerance is completely missing in Bombali District, which he govern.