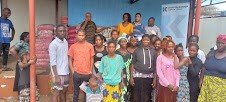 As a private business entity that always prioritizes timely and impactful rolling out of its Corporate Social Responsibility, Karpowership recently, during the eve of Eid-Ul-Ada celebration, donated food items to World Hope International, a Non-Governmental Organization and eleven communities (11) in Western Urban and Western Rural Districts.
The Kingtom Community, Murry Town Community, Aberdeen Community, Kanikay Community, Brookfields, Juba Potor Community, Kaningo Community, Kamayama Malama, Swissey Community, Belgium Community and Waterloo Community were among the eleven communities in Freetown that benefitted from the donated items of rice, oil, cuss-cuss, sugar and mayonnaise.
Karpowership's gesture was part of the electricity generation and supplying entity's ongoing efforts in supporting the Government and the People of Sierra Leone, especially those that are residing within their operational areas.
It must be reiterated that since the Management of Karpowership commenced operations in Sierra Leone it has been honoring their Corporate Social Responsibility by giving back to the people of Sierra Leone.
Speaking on behalf of the management of Karpowership,  Yankay Sawanneh conveyed the unwavering commitment of Karpowership in supplying electricity to the people of Sierra Leone further highlighting  that the donation exercise is part of their support to the people of Sierra Leone.
He continued by stating that they are proud to always identify themselves with the people of Sierra Leone especially in responding to emerging issues in the country. He recalled that during the fight against the Corona Virus they responded by not only providing food items to people in quarantine homes but also supporting the Ministry of Health and Sanitation with medical equipment that are very essential in saving lives.
Yankay furthered that reaching out to vulnerable groups like the Deaf and Blind Schools in providing learning materials and food items has always been part of their CSR activities. He further applauded the Ministry of Energy for maintaining a convivial working relationship with them.
Representatives of the eleven communities thanked the Management of Karpowership for always coming to the aid of the people of Sierra Leone. They further applauded the operations of Karpowership by describing it as very essential.