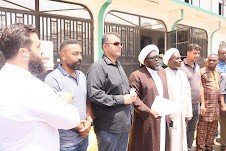 A newly established entity called the Lebanese Union in Sierra Leone formed by some Lebanese nationals residing in the country has on Tuesday, 21st March, 2023 donated 120 bags of rice and 120 (20-liter) gallons of oil to Muslims at the Central Mosque in Freetown.
Chairman of the Union, Abass Khazem, stated that the donation forms  part of their way of supporting the Muslim community in Sierra Leone during the Holy month of Ramadan.
He revealed that despite the fact that the Union is only a month old, its members thought it fit to help Muslims in their own little way.
"The world is undergoing serious economic challenges and now is the time more than ever before for people to render whatever assistance to their compatriots because they need it, " Chairman Abass Khazem underscored furthering how they will continue to contribute in their own little way as a union in a bid to ameliorate the sufferings of Sierra Leoneans.
He appealed to other organizations, goodwill people in society to also step in with other forms of support to help the society from the current economic challenges facing Sierra Leone and the world over.
Receiving the donation on behalf of the Muslim Jamaat, the Chief Imam of Central Mosque, Sheik Mohamed Alie Sesay, thanked the Union and its leadership for such what he termed as a significant and timely gesture as it came at the right time as Muslims are preparing for the Holy Month of Ramadan.
"Many of our brothers and sisters in Islam are complaining that they will not be able to observe this year's Ramadan due to the hardship in the country and the world over", he noted adding that with such a gesture from the Union and hopefully others, it will go a long way in addressing some of the challenges they're facing.
He therefore called on other goodwill ambassadors to emulate the good gesture of the Lebanese Union in a bid to help the Muslim Community.