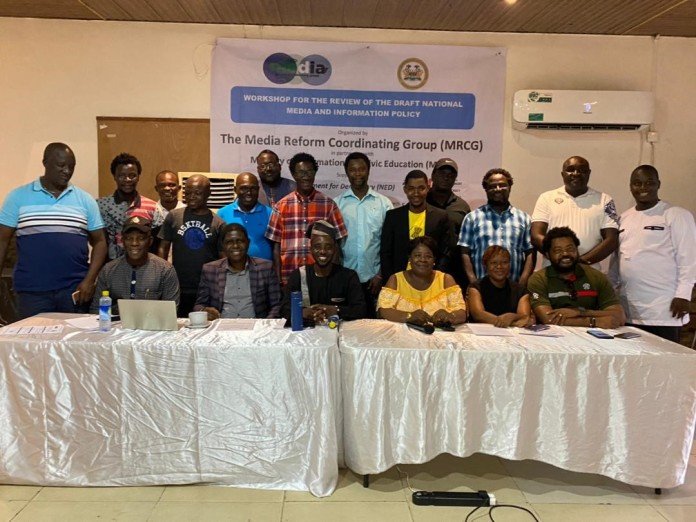 A workshop, aimed at scrutinizing the draft National Media and Information Policy was conducted by the   Media Reform Coordinating Group (MRCG) in collaboration with the Ministry of Information and Civic Education (MoICE), on September 7, 2023, at Dohas Hotel in Bo.
Representatives from the Right to Access Information Commission, the Sierra Leone Association of Journalists, Women in the Media Sierra Leone, the Independent Media Commission and various other stakeholders were in attendance.
Chernor Bah, the Minister of Information and Civic Education, in his keynote address underscored the pressing need for reform in Sierra Leone's information ecosystem. He lamented the existing dysfunction, describing it as so poorly organized that it seemed deliberately designed for chaos. He emphasized the absence of cohesion in messaging, a dearth of values and principles in communication, and the need for adherence to international standards.
The Minister emphasized that Government institutions, with outdated or non-functional websites, face credibility issues when applying for grants from international organizations. "If they have a website that looks reasonably good they will say that is an institution with some credibility. That is a foundational step, but we have Government Ministries in Sierra Leone that do not even think about updating their websites," the Minister lamented. He emphasized that proactive information dissemination, rather than defensive measures, is key to countering fake news and negative propaganda.
Chernoh Bah revealed that, at the request of President Bio, they were conducting an assessment of Sierra Leone's information architecture, aiming to map information flows and improve Government-citizen interaction. "We want to see and map out where we are now in terms of information flow and use that map to propose how it ought to be for the Government to function well."
He also stressed the importance of civic engagement and feedback mechanisms, stating that citizens' voices must be heard. "To achieve these goals, the development of comprehensive policies, such as the National Media and Information Policy, is essential," he stated.
The Minister commended MRCG for its efforts and called on all stakeholders to collaborate in achieving the outlined objectives.
Earlier, Dr. Francis Sowa, the National Coordinator of MRCG, underscored how the document under consideration is not one they have created but rather a compilation of discussions on key issues that could inform future policy decisions.
He continued by emphasizing that the Government has its established process for policy development with the current document likely incorporating input from various stakeholders.
"It's crucial to understand that this is a multifaceted process with numerous steps, which the facilitators will elaborate on later. Our primary objective today is to acknowledge the existence of this draft document. However, we must ensure that we do not present an outdated document before engaging with the Minister and his team. Therefore, updating and contextualizing these documents will provide a solid foundation for our discussions," he maintained.
On his part, the Chairman of the Independent Media Commission, Dr. Victor Massaquoi and the MRCG Board stressed the pivotal role of a well-defined information policy in reducing confusion and enhancing coordination further acknowledging the policy's content richness and anticipated improved information flow and quality in Sierra Leone.
President of Women in the Media Sierra Leone, Estina Taylor, highlighted the policy's relevance in the digital age, particularly in addressing issues of misinformation, disinformation, and Cybersecurity. Taylor emphasized the importance of gender equality in information dissemination, underlining the policy's potential to combat gender bias and harassment while fostering an environment conducive to women's professional growth.
Acting Director of Information at the Ministry of Information and Civic Education, Emmanuel AB Turay, emphasized the significance of the National Information Policy and highlighted the necessity of having a comprehensive national policy to ensure the effective implementation and operation of information resources, services and systems.
"This policy aims to provide timely access to relevant information for citizens across the country, enhance coordination within the national information system, and align with existing legislation," he said.
Turay also stressed the importance of a dedicated session to assess the current state of affairs and align with international standards to improve the national policy further. He stated that the primary objectives of this policy include supporting national development initiatives, enhancing the quality of life for citizens by facilitating systematic and secure communication through information strategies and revitalizing investments in information and communication infrastructure.
The workshop concluded with a facilitative session led by Dr. Isaac Massaquoi and Umaru Fofana, followed by group work where members collaborated to generate ideas for the development of the information policy climaxed.