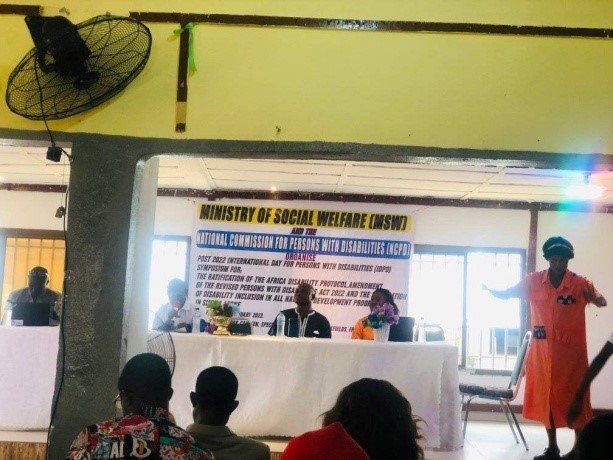 By Millicent Senava Mannah
The National Commission for Persons with Disability, with support from UNFPA, Humanity Inclusion, and other sponsors has held a post 2022 International Day for Persons with Disabilities (IDPD) symposium on the 13th January, 2023 with stakeholders, Government Agencies and other Civil Society Organizations at the Special Court Compound, Brookfields.
The symposium was geared towards starting the full engagement on the ratification of the African Disability Protocol and also to campaign for the speedy parliamentary review and amendment of the Reviewed Persons with Disability Act 2022.
Its ratification will not only bring Africa to its five member requirement for its enforcement but it will subsequently place Sierra Leone as the first country in West Africa to take the lead in the ratification and implementation of the continental disability and human rights frameworks.
Giving his welcome address, Saa Lamin Kortequee , Executive Secretary, National Commission for Persons with Disability (NCPD), welcomed everybody on behalf of the Commission and the Ministry of Social Welfare.
He intimated that they want to look for a way forward on how their programmes can be lucrative and how issues related to persons living with disabilities in the country would be inclusive adding that to foster an inclusive drive they must ensure persons with disabilities are included, especially women and girls.
Kortequee noted that they need innovative ways to achieve a just world for disables to thrive maintaining how they need an agenda according to him not just mere words but actions.
He underscored that the African Disability Protocol pushes for 'Leaving No One Behind' in order to have an accessible and equitable world furthering how the Act has been there but how it lacks the necessary strategies, and how the UN is finding a way to facilitate the Act for it to achieve Inclusion.
The Executive Secretary further stated that as elections are drawing closer they need to be included in political participation and how they want parliamentary symbols to be awarded to them stating that if there are disables in Parliament they will champion the issues of persons with disabilities in the country.
He revealed that they now have disables in Universities and also in the innovative sector stating how they need to create recreational activities for persons with disabilities for them to feel belonged.
Hon. Moses Edwin, the Social Welfare Parliamentary Committee representative said many people are discriminated against because of their disabilities. He said as a Committee they are trying their best to foster or push forward the issues of disables in the country.
According to him, they will give a safe passage to the African Disability Protocol, and how, as soon as it is in Parliament they will do due diligence to pass the Bill.
Aminata Wurie, a Consultant and UNFPA representative disclosed how they have been working closely with the Government, NCPD, Ministry of Social Welfare and other organizations.
She maintained that they should work towards achieving the theme for last year which was: ''Transformative Solutions for Inclusive Development: The Role of Innovation in Fuelling an Equitable and Accessible world''.
Aminata stated how they are encouraging disables to be highly educated for them to take up leadership positions in governance and other sectors. She disclosed how they are also supporting the ratification of the Act.
One of the participants, Chernoh Kamara, an Albino, expressed his gratitude to the Commission and their sponsors for promoting the issues of persons with disabilities in the country and called on persons concerned to support the ratification of the Bill.
To climax the symposium, there was a session facilitated by Sight Savers on the African Disability Protocol on the importance of its ratification in Sierra Leone.