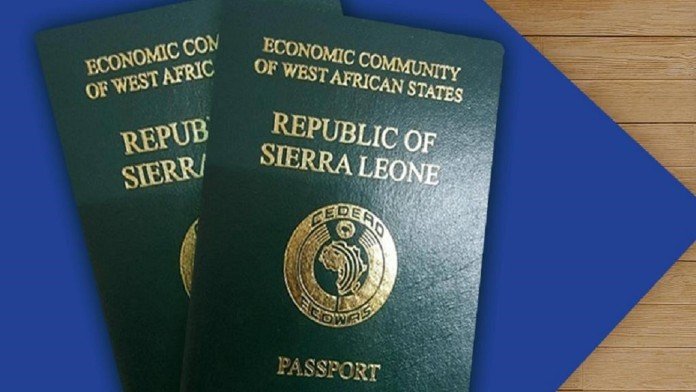 By Amin Kef-Ranger
In a significant stride towards enhancing international travel and security standards, Sierra Leone's E-Passport has successfully met the rigorous requirements set by the International Civil Aviation Organization (ICAO). Since 2015, the dedicated service provider, Netpage SL Ltd, has been diligently adhering to the ICAO's new book design standards.
One notable milestone in this journey was the transition from machine-readable passports (MRP) to electronic passports (e-passports) in 2022. This shift not only modernized the passport system but also introduced electronic upgrades for expedited processing of biometric data. Currently, e-passports are in use for ordinary, diplomatic, and service books.
In a recent development, Netpage SL Ltd, in collaboration with the Government of Sierra Leone and international partner, HID Global, has further elevated the e-passport system. This upgrade includes the incorporation of new security features and a higher-grade chip, a revelation made public by Henley and Partners.
As a testament to these advancements, Sierra Leone's passport ranking has surged by 10 places, reaching the 74th position in 2023. Within the sub-region, Cote d'Ivoire secured the 79th spot, while Guinea and Liberia followed closely at 80th and 87th, respectively.
Netpage SL Ltd has consistently fulfilled its contractual obligations and is actively expanding its service centers in key locations such as Bo, Makeni, the United Kingdom, and the United States of America.
For those seeking a Sierra Leone passport, the official price remains at Two Thousand Two Hundred Leones (equivalent to 100 US dollars), aligning with the Bank of Sierra Leone's exchange rates.
Prior to these achievements, both Parliament and various Civil Society Organizations conducted extensive investigations into Netpage's operations, particularly scrutinizing the company's contract agreement with the Government of Sierra Leone. These investigations have affirmed Netpage's legitimacy to operate within the country.