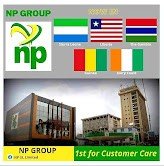 By Amin Kef (Ranger)
NP-SL Ltd, the foremost indigenous petroleum marketing company in Sierra Leone, has not only established a strong presence in its home country but has also extended its operations to neighbouring nations such as Guinea, Liberia, Ivory Coast, and The Gambia. This expansion has solidified its status as a key player in the West African sub-region, offering high-quality petroleum products and a range of services to its loyal and extensive customer base.
Over the years, NP-SL Ltd has demonstrated exceptional expertise in the importation and marketing of various petroleum products, including diesel, petrol, gas, and lubricants such as Castrol Oil. Its commitment to timely service delivery and operational efficiency has earned it the trust and confidence of customers across these nations.
Collaborations with astute business individuals have led to the establishment of Filling Stations in different regions of these countries. These partnerships are built on mutual trust and the shared goal of not only maximizing profits but also contributing meaningfully to the development of these nations.
NP-SL Ltd's efforts in opening new Filling Stations have contributed significantly to the reduction of unemployment, particularly among the youth—a critical issue often linked to high crime rates. By creating job opportunities, the company is actively participating in poverty reduction, a vital aspect of socio-economic development.
Governments in these countries derive revenue through internal fund mobilization, including various forms of taxation. Filling Stations, including those operated by NP-SL Ltd, play a crucial role as significant taxpayers. The taxes they pay are utilized by Governments to provide essential services and fund vital development projects for their citizens.
One of NP-SL Ltd's standout achievements is its unwavering commitment to customer care, which led to the company receiving the prestigious accolade of being recognized as the leader in Customer Care. The company's Management believes that providing utmost customer satisfaction is of paramount importance. All NP-SL Ltd Filling Stations are equipped with calibrated pumping machines that dispense the exact amount of fuel requested, displaying the price simultaneously.
NP-SL Ltd also offers NP Gas cookers in various cylinder sizes, known for their environmental friendliness and ease of gas refilling . To streamline transactions, the company introduced the NP Smart Card, allowing customers to purchase fuel without physical cash. This quick, secure, and convenient payment method has received widespread praise.
Notably, NP-SL Ltd has a longstanding policy of predominantly employing local residents in all the regions where it operates. This commitment aligns with the company's dedication to promoting Local Content and fostering economic growth in these nations.
Indisputably, NP-SL Ltd has made significant contributions to the socio-economic development of Sierra Leone, Guinea, Liberia, Ivory Coast, and The Gambia. With its unwavering dedication to excellence, the company continues to thrive and positively impact these countries across the West African sub-region.