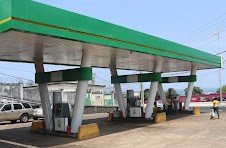 By Amin Kef (Ranger)
In a groundbreaking move that sets a new standard for innovation in the petroleum industry, NP-SL Ltd has emerged as a trailblazer in Sierra Leone's petroleum sector, spearheading a revolutionary digital transformation. With a relentless commitment to customer satisfaction and a focus on cutting-edge technologies, the company has surged to the forefront of the industry.
Founded by 35 visionary Sierra Leoneans, former employees of the British Petroleum Company, NP-SL quickly solidified itself as a privately-owned entity with ambitious goals and a clear vision for progress.
At the heart of NP-SL's meteoric rise is its unwavering commitment to customer-centricity. Leveraging advanced technologies, such as smart cards and GPS-enabled fuel pumps, the company has revolutionized the way customers experience fuel purchases. The introduction of the user-friendly NP Smart Card not only offers convenience in buying fuel but also empowers customers to budget and plan their fuel consumption effectively.
Furthermore, NP-SL's dedication to Sierra Leone's Local Content Policy is a testament to its mission of empowering the nation's workforce. By prioritizing qualified citizens for employment opportunities, the company fosters a sense of national pride and ownership among its employees.
As a responsible corporate citizen, NP-SL also actively engages in various initiatives that give back to the communities it serves, earning the respect and trust of its stakeholders.
Despite NP-SL's outstanding efforts, the global fuel landscape faces unprecedented uncertainty. The ongoing conflict between Russia and Ukraine has led to increased demand for oil as countries cut ties with Russia, leading to soaring fuel prices worldwide. This situation has significantly impacted the availability and cost of petroleum products, making it a challenging period for both governments and oil marketing companies.
In the face of these global challenges, NP-SL remains determined to mitigate the impact on the Sierra Leonean public. The company has been actively working to import more petroleum products into the country, making every effort to ensure steady supplies.
While the government has provided foreign exchange to support oil marketing companies like NP-SL in their import endeavors, it is crucial to recognize that the international market forces largely dictate fuel prices. The Petroleum Regulatory Agency (PRA) has the final say in announcing price changes, considering various variables affecting the market.
It is important to note that NP-SL Ltd operates with a compassionate approach, aiming for profitability while also striving to ease the burden on the common man. The company's track record as a responsible taxpayer and its commitment to environmental-friendly products further solidify its standing as a trusted entity within the industry.
NP-SL Ltd's innovative offerings, including NP Gas cookers and the NP Smart Card, continue to enhance consumer experiences while exemplifying the company's commitment to progress.
As the world grapples with fuel price uncertainty, NP-SL's digital transformation stands as a beacon of hope, inspiring aspiring entrepreneurs to embrace innovation and customer-centric strategies. Despite the challenges ahead, Sierra Leone can draw valuable lessons from NP-SL's journey, paving the way for a resilient and prosperous petroleum sector in the nation's future.
In these times of uncertainty, let us remain hopeful and optimistic for a better tomorrow.