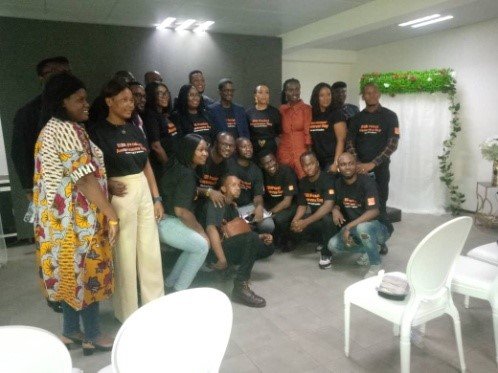 By Abubakarr Harding
The world of business is rapidly evolving, with digital technologies and tools transforming the way companies operate. Orange-Sierra Leone, one of the leading telecommunications service providers, recently held an engagement to showcase their commitment to helping companies accelerate their digital transformation drive through their cloud and ICT solutions on Wednesday 22nd March 2023 at the Orange Digital Centre in Freetown.
In her address, Annie Wonnie Katta, Deputy Chief Commercial Officer (B2B) at Orange SL, highlighted how cloud, collaboration, big data, and analytics are fundamentally changing the way businesses operate. She emphasized that every company is becoming a digital business and needs a network that is flexible, efficient in cost and performance, and future-proof.
She said to stay competitive, companies need to adopt digital technologies that can help them collect, store, and process data effectively.
"This is where Orange SL comes in, as a leading digital and communications service provider," she exclaimed furthering how Orange SL is committed to helping its customers operate more efficiently through its unique products and services.
Their B2B ICT cloud solution is currently evolving to meet the needs of customers and make their business lives easier, she also pointed out.
The CEO of Orange SL, Sekou Amadou Bah, reiterated the company's commitment to providing its customers with the best possible solutions for their digital needs. He stated that their goal is to lead individuals by developing solutions that respond to growing customer needs and meet the standard of excellence and service guarantee.
"Despite the challenges of exclusion of the use of technologies, the level of threats of Cybersecurity and the increasing demand of customers, Orange SL is committed to providing the building blocks to prepare customer companies for the future, from cloud to Cybersecurity," the CEO assured.
He disclosed how Orange SL's Cloud and ICT solutions offer features and benefits designed to meet all client business needs saying with the help of Orange SL customers can achieve better business outcomes through agility, cost control and efficiency.
"The company's commitment to providing its customers with the best possible service is evident in its efforts to deepen its space in telecoms not just within Sierra Leone but globally," the CEO said.
The Deputy Minister of Information and Communications, Solomon Jamiru Esq, expressed gratitude for the opportunity to make an impact and highlighted the importance of B2B cloud-based services within the context of the African Union's digital transportation strategy.
He said as a Ministry they aim to validate Orange's efforts in deepening its space in telecoms not just within Sierra Leone but globally. The speaker mentioned that they were sold on the idea and would take the next step to experience it.
The Deputy Minister concluded that Orange SL has proven its commitment to being a reliable partner for an enhanced digital experience.
He maintained that the gathering showed their customers that they are not alone and that they are their partners in leading Sierra Leone to the technological revolution that is taking place in the world.
"As a company that is constantly evolving, Orange SL is committed to meeting the needs of its customers and leading the way in digital business transformation," he said continuing by saying that with its Cloud and ICT solutions, Orange SL is paving the way for companies to thrive in a rapidly changing digital landscape.