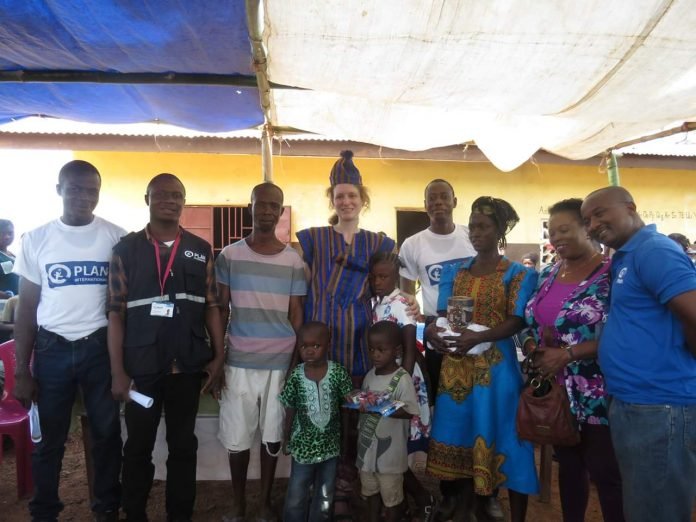 Out of the two funding sources of Plan International is sponsorship. It creates communication relationship between a sponsor and the sponsorship child (SC). Where the financial resources collected are used to implement projects in sponsorship communities. In that perspective the Sponsorship child is considered an ambassador in his/her community.
In seven days, Plan International Sierra Leone hosted two Sponsors from Holland and Germany in two different visits, in Port Loko and Moyamba Districts.
In Port Loko District, community members at Rogbai and Masimra Villages, came out in their numbers on Friday February 1st, to welcome Mr. KO Out; a Plan International Sponsor from Holland.
These Villages are hosting a Sponsored Child under Mr. Out Sponsorship.
Community members expressed thanks and appreciation for the support given to them by both Plan International Sierra Leone and Mr. Out. They highlighted the building of Schools, Community wells, toilets and the Village Saving and Loan Scheme as some of the projects which Plan International Sierra Leone has implemented in their communities.
In his response, Mr. Out thanked the communities for their support in ensuring that, children especially girls are sent to school. He encouraged them to take good care of the facilities, and support Plan International Sierra Leone in achieving its aims toward enhancing better lives for children.
In another development, Anna Haberl, another Plan International Sponsor from Germany visited Moyamba Ngieya Village in Moyamba District, on the 7th February, to see Jestina her Sponsored Child. Community members turned out in their numbers with cultural displays to welcome her.
In a brief community meeting in the presence of Chiefs, Community Elders, School Authorities, Community Members and School Children, the community thanked Anna for her support to Jestina and by extension other children in the community.
During her response, Anna Haberl said that, she is overwhelmed to visit the community as this is her first visit to Sierra Leone. She reiterated her support to Jestina and the community.