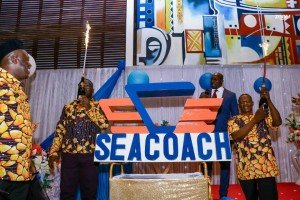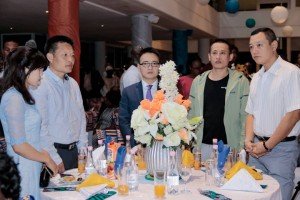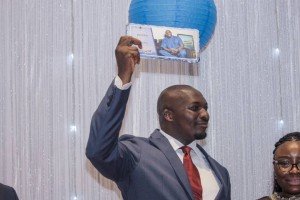 Celebrating its 10 year anniversary in grand style, the Management and Staff of SEACOACH Express on Saturday 20th July 2019, invited diplomats, customers and other dignitaries to a ceremony held at the Bintumani Hotel, where it gave awards to deserving staff for their diligent services over the years in Sierra Leone.
Speaking during the ceremony, the Chief Executive Officer of SEACOACH Express, Capt. Olusegun Jaji, expressed his appreciation to the guests for celebrating with them on such an important occasion. He stated that from humble beginnings, his company has been transformed into a formidable force to reckon with in the ferry business. He disclosed that with barely one boat at the start of the venture in July 2009, they can now boast of a fleet of boats plying the route from Freetown to Lungi and other parts of the country, much to the satisfaction of their customers.
With expert captains driving the boats, they are pleased to say that no mishap has hit the company. With its site at the Aberdeen Bridge, the location presents travellers visiting the country for the first time, a rare view of the landscape as they are ferried across from the Lungi International Airport.
The CEO further stated that with the aim of catering for the needs of commuters to travel to and from Lungi in safety and with satisfaction, SEACOACH Express has laid the foundation to revolutionise sea travel in Africa.  SEACOACH Express provides the most reliable, safe and most comfortable shuttle services to various parts of the country. It has offered enjoyable excursion trips, tours and holiday trips to various parts of the country. In the area of seaworthiness of his fleet, the CEO stressed that they place a high premium on maintenance of their fleet, adding that the boats are equipped with the latest state-of-the-art navigation system to ensure the safety of their passengers.
On its Corporate Social Responsibility, CEO Jaji maintained that the company has been very active in that area with the provision of thousands of scholarships to disadvantaged students, the construction of several water wells in the community it operates and the building of a hospital at Aberdeen, which was donated to the community in April 2019.
Other speakers had words of praise for the management and staff of the company and it was disclosed that early next year, SEACOACH EXPRESS will be plying part of the West African route to Liberia and Guinea and additional fleet of boats are expected soon.
Several artists including Famous and Kolabo made brief performances to the pleasure of the guests. The ceremony was climaxed with the distribution of awards to deserving staff that had performed excellently over the years. The party then continued way into the night.