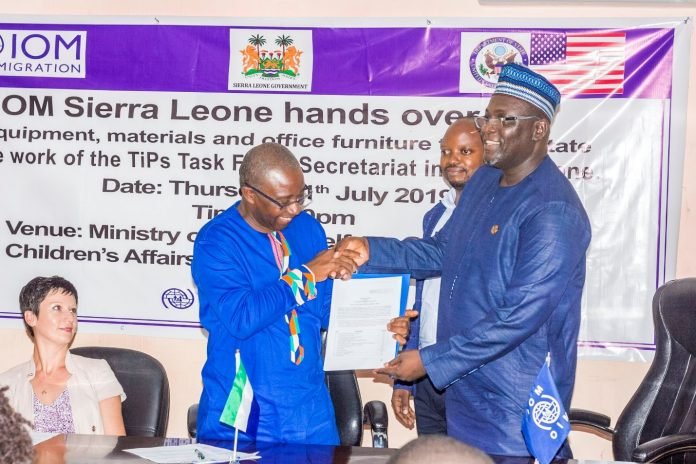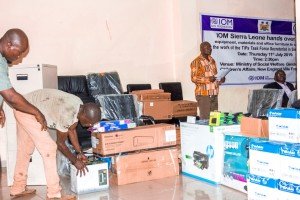 Last week, the International Organization for Migration (IOM), in collaboration with the Ministry of Social Welfare, Gender and Children's Affairs (MSWGCA) in Sierra Leone, held a handing over ceremony of equipment to the Sierra Leone Trafficking in Persons (TIPs) Task Force Secretariat at the MSWGCA.
The Secretariat was established in 2005 following the enactment of the Anti-Human Trafficking Act, to coordinate activities, and provide administrative assistance to combatting human trafficking in a country where each year, thousands of girls and boys are trafficked for forced labor or sexual exploitation. However, the lack of ICT equipment has been a major challenge to the Secretariat' operations.
Through the Africa Regional Migration Programme implemented by IOM in Sierra Leone with funding from the U.S. Bureau of Populations, Refugees and Migration (PRM), IOM supports the Secretariat through capacity building, materials and equipment to improve assistance to survivors of human trafficking, and improved capacities to undertake awareness raising activities.
The equipment donated includes office furniture, three laptop computers, a printer, cartridges and an internet modem.
"These materials will not only support data collection, reporting and information exchange but also facilitate the work of the task force in identification, screening, referral and provision of protection assistance to victims of trafficking", said Alhaji Sanusi Tejan Savage, Head of Office, IOM Sierra Leone.
"Although significant progress has been made, we should not relent in our efforts, as Sierra Leone remains a source, transit, and destination country for children and women being trafficked for forced labor, commercial sexual exploitation", Mr. Savage stated.
The Honorable Deputy Minister of Social Welfare, Gender and Children's Affairs, Mohamed Haji Kella in his statement emphasized the need for equipment and capacity for the effective operations of the secretariat. "We did not have enough equipment, so the donated items will greatly help the TIPs Task Force to deliver their mandates".
In March this year, IOM organized a training of trainers for 33 officials of the TIPs National Task Force to strengthen their technical capacity to efficiently provide assistance to victims of trafficking, enhance the prevention of trafficking through the adoption and encouragement of local initiatives to improve the well-being and opportunity for potential victims.