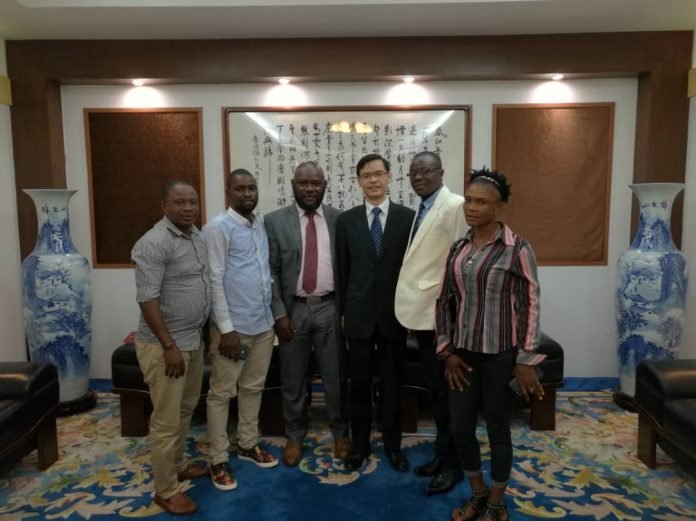 A cross section of members of the Sierra Leone China Foundation has paid a courtesy call on the new Chinese Ambassador to Sierra Leone at the Chinese Embassy in Western Freetown. The purpose of the visit was to share the work and vision of the Foundation with the new Ambassador and to acquaint him with the strategic partnership that the Foundation has always  maintained with the Embassy.
The delegation informed the Ambassador that Sierra Leone and China have enjoyed a long-standing bilateral relationship dating back to the 70s, and that, the Foundation was borne out of the genuine desire to foster friendship and cooperation between the two countries. China's role and contribution in the country was catalogued and such contributions include but not limited to infrastructural development, investments in trade or commerce,  medicine, human resource capacity development and humanitarian  interventions like during the Ebola and mudslide disasters. The delegation praised China for its sisterly love and its unwavering commitment to working with Sierra Leone and to improving lives.
The new Chinese Ambassador was given a detailed or elaborate brief on the work of the  Foundation and how the Foundation intends to hit higher heights, while also being reminded on a very strategic Sierra Leone China conference that was organized at the Bintumani  Hotel in 2018. The Foundation further informed the Ambassador that his predecessor was very cooperative and that they were ready to pick it up from the impressive point that he stopped and to seize the historical momentum with the new Ambassador.
Responding, the New Chinese Ambassador extended the good wishes of the people of China to Sierra Leone while also expressing his gratitude to the group for a commendable visit .He assured the Foundation of always keeping his doors open and encouraged the visiting members to do everything possible to maintain the Foundation. He said China's relationship with Sierra Leone is always rooted in a win-win philosophy, adding that China was truly committed to sharing a common future with Sierra Leone.
The Sierra Leone China Foundation is a registered and an actively and legally functioning Foundation in the country which seeks to strengthen China-Sierra Leone ties and to complement the work of the Government in that direction.