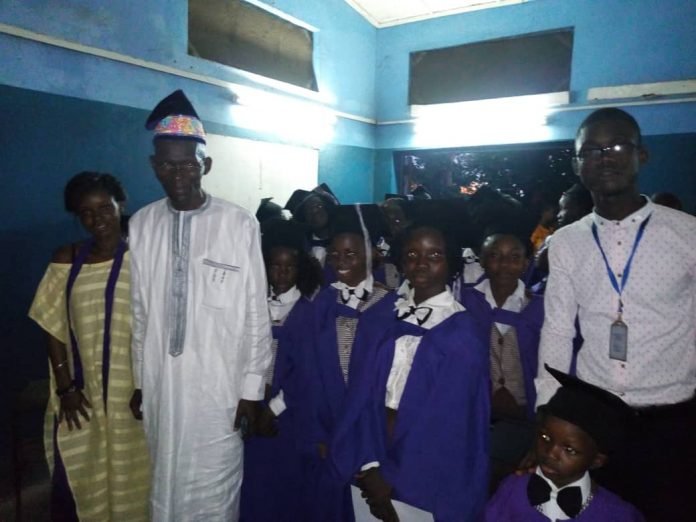 On Sunday 14th July, 2019, the Yamakai Action for Children Nursery and Preparatory School held its 18th & 21st Annual Graduation Ceremony at Obama City, Lower Savage Square, Freetown.
Buya Nabie Bangura Founder & National Coordinator Patriotic Empowerment Network Sierra Leone (PEN-SL) in his opening remarks expressed his warmest congratulations to the young graduants for having gone through a successful and important phase of study that lays the foundation of life-long learning.
He thanked the parents and teachers for giving them the unfailing support and an enabling environment in which children's potential are nurtured and developed through a wide variety of excellent learning experience.
"Our New Generation will face a much faster changing world than we did decades ago, Globalization, the advent of information technology, and the development of a knowledge-based economy is leading to changes at an unprecedented rate and scale. The knowledge children learnt at schools will soon lag behind the development of our society," he maintained.
He said that to prepare children for the future, they need to provide them with the opportunities to develop the generic skills that are needed for them to become life-long learners. He empathizes that apart from knowledge children need to develop their skills to acquire, construct and communicate knowledge.
He ended by saying that the vision for education for the 21st Century is to enable all children to develop their potentials to the fullest extent and said this can be achieved by concerted effort by the government, frontline educators, parents and the community as a whole which will translate the vision to reality.
Alhaji A.B. Kamara proprietor Yamakai Action for Children Nursery and Preparatory school disclosed that graduation ceremony is always such a special occasion, the culmination of years of hard work; the actualization of goals attained and the acknowledgement of successes achieved.
"It has been a journey that started with tentative steps perhaps, but one that has taken us to remarkable heights. We have encountered some trials and tribulations along the way; we have experienced exceptional moments, some magical moments and created memories that will be fondly remembered in the years ahead". He noted.
He said that they are proud as an institution about the success they have made with opportunities that they were offered. He said they hope they are ready, willing and more than able to grasp the torch that have been bestowed upon them and said that they are the future and the world will come to depend.
He concluded by appreciating the parents for their cooperation even though with some challenges and also thanked the entire administration and staff for their tireless effort towards the development of the children and the institution.