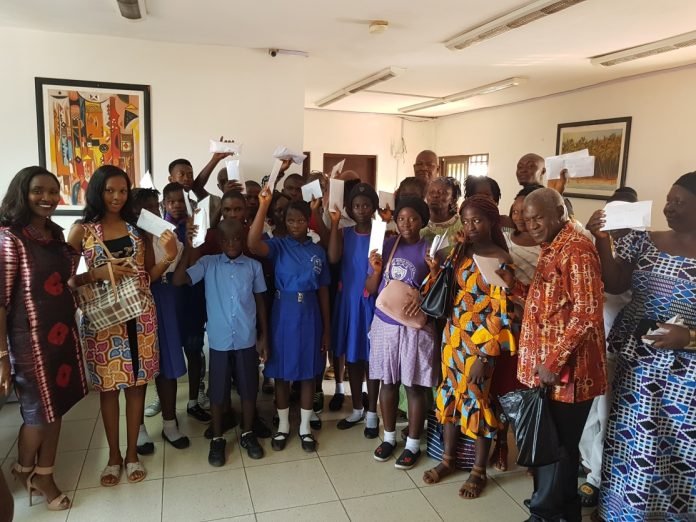 As a manner from heaven, Sis Vic Educational Foundation awarded another set of scholarships to over 30 students for 2019 academic year.
At a colourful award ceremony on the 19th January 2019 at Pademba Road, the students, pupils and their parents expressed joy for the continuous support by the Foundation.
The Sis Vic Educational Foundation was established in 2011 in honour of the late mother of Ambassador Henry O. Macauley.
Madam Aminata Dumbuya read the reinstatement of scholarship purpose and said they are aware of the Government's quality free education program but that will not stop them to award scholarships to them because their parents need to buy their books, extra tutorial and other learning materials.
She encouraged the students to make good use of the offer by focusing on their educational pursuits as they will not tolerate anyone that perform below their standard.
Below is the statement made by Ambassador Henry O. Macauley:
Let me congratulate you on yet another year of being with the Sis Vic Educational Foundation, a Foundation established in the memory of a generous, .kind hearted, but disciplinarian woman of substance, my late Mum Madam Victoria Doherty, who passed away 11 years ago.
Since 2011, this Foundation that was set up to be non-political, non-tribal, non-religious or gender biased, has assisted over 50 indigent children with the provision of school fees and books, up to University level, even boasting of an international graduate.
The scholarships are based purely on merit and we are lucky and proud, as organizers, to have a fine and promising crop of young Sierra Leoneans as yourselves.
May I urge you to continue down this path of excellence in turn, to keep sound the words of that great lady, Sis Vic, whose constant admonishment was, "Education if Freedom"
We promise to continue our support for as long as is necessary.
We are happy to note the brilliant performance of all of you, with some exceptional. These will be receiving special prizes and recognition today. Please keep it up Abibatu Bangura one of the Foundation students that is now at FBC and has an exceptional report card. Congratulation and God bless us all."
Sis Vic Educational Foundation started with 19 students in 2011/2012 academic year ranging from JSS to SSS. The number keep multiply yearly.
Sis Vic Educational Foundation has its first University graduate in the name of Mohamed Gbla, a student the Foundation supported to apply to the University of Iiorin, in Nigeria and supported from 2011-2016 and has now graduated with Bsc in Sociology. The university students have increased to four this year.