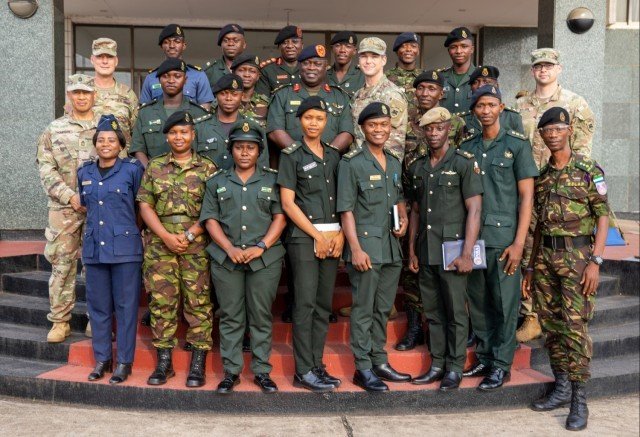 A team of public affairs experts from the U.S. Army Southern European Task Force, Africa (SETAF-AF) and Combined Joint Task Force – Horn of Africa (CJTF – HOA) exchanged best practices and procedures with members of the Republic of Sierra Leone Armed Forces (RSLAF) at the Joint Force Command in Freetown, Sierra Leone. Officers and noncommissioned officers from both the U.S. and Sierra Leonean militaries participated in the military-to-military exchange.
The three-day event included discussion on a range of public affairs activities.
"Military to military activities like this information exchange are what robust, long-lasting partnerships are all about," said SETAF-AF team lead Maj. Brian Andries. "Meeting face to face with (RSLAF) officers to learn about how they go about their work helps us to improve our level of public affairs practice, and we look forward to building on this experience."
The participants discussed roles and responsibilities of military public affairs offices, as well as how to use modern communication methods.
"I think this engagement has been a very positive one," said participant Capt. Daniel Mansaray, a Sierra Leonean media officer. "We have learned many things relating to media and public affairs and communication. I have learned a lot from the experiences of the SETAF-AF and CJTF-HOA team."
The event is part of the U.S. Africa Command's ongoing military-to-military familiarization program. AFRICOM conducts several such events throughout the year, bringing together U.S. and partner military members to discuss a range of specialties in the profession of arms.
The event was particularly useful for junior-level officers, said. Lt. Gen. Peter Lavahun, chief of defense staff, Republic of Sierra Leone Armed Forces.
"We want to mold younger officers to communicate effectively especially in regards to the media and what the public's perception of the military is," Lavahun said. "So I am very glad that the team from the U.S. is here."
About SETAF-AF
U.S. Army Southern European Task Force, Africa (SETAF-AF) is responsible for achieving U.S. Africa Command and U.S. Army Campaign Plan objectives while conducting all U.S. Army operations, exercises and security cooperation on the African continent.