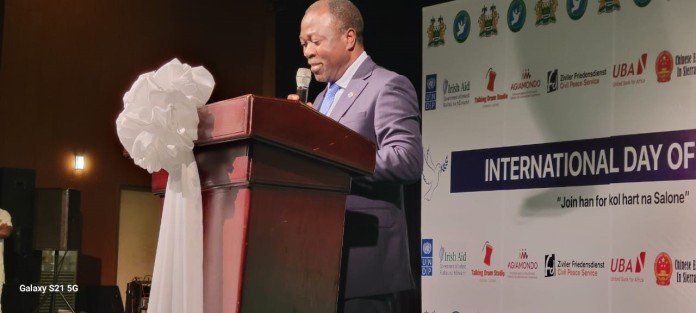 In a major call for unity and harmony, Babatunde Ahonsi, the UN Resident Coordinator in Sierra Leone, delivered a compelling message during an event held by the Independent Commission on Peace and National Cohesion (ICPNC) on September 21, 2023 at the Bintumani Conference Centre in Freetown to commemorate the International Day of Peace.
Making reference to the current political tensions in the country, he implored the ruling and opposition parties to peacefully resolve their differences, emphasizing the need to defuse tensions that have arisen within communities nationwide.
The Resident Coordinator stressed the importance of countering divisive ethno-regional discourse and hate speech, which has persisted not only during the recent electoral period but also beyond. He applauded President Julius Maada Bio for his commitment to reducing political tension and fostering national cohesion, as well as commending opposition leaders for their dedication to maintaining peace in the nation.
"While political tensions are natural during election times, it is imperative that they are promptly and appropriately addressed in the post-election period" Babatunde Ahonsi averred, cautioning that unresolved tensions could hinder national development and cohesion, potentially leading to an atmosphere of instability.
Notably, Mr. Ahonsi welcomed the initiative of the Commonwealth Secretary-General, supported by ECOWAS, AU, and the ICPNC, to facilitate a dialogue process between the ruling Sierra Leone People's Party (SLPP) and the All People's Congress (APC). He expressed hope for a sincere and honest dialogue and commended the involved parties for their political will in the face of challenges.
Highlighting the ongoing political deadlock between the SLPP and the APC following the June 24th elections, Mr. Ahonsi emphasized that such political deadlocks and conflicts, if left unresolved and descending into violence, could obstruct peace and stability, ultimately undermining national development and social cohesion.
The UN Resident Coordinator affirmed the United Nations' commitment to any effort that contributes to reducing violence and peacefully resolving disputes, with a focus on social inclusion and justice. He underscored the importance of addressing the root causes of inequality and marginalization as part of Sierra Leone's upcoming Medium-Term National Development Plan, which spans the next five years. Mr. Ahonsi believes that this approach will significantly contribute to sustaining peace and national cohesion, facilitating the country's progress.
As Sierra Leone prepares to embark on this crucial journey of development, the UN Resident Coordinator's call for peace, unity, and dialogue resonates as a beacon of hope in a nation at a crossroads.