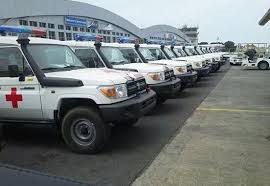 On 21st March 2019, in its bid to support the strengthening of a resilient Health system in the country, the United Nations Development Programme (UNDP), delivered 15 vehicles to the Ministry of Health and Sanitation (MoHS).
Poor health and poverty are inextricably linked. Gaps in governance, social injustices and economic inequalities are the bedrock of poverty, which in turn increases chances of poor health, which also traps societies in poverty. In this regard, UNDP recognizes and reaches out to compliment efforts of the government of Sierra Leone in trying to eradicate poverty in a holistic approach, through accelerated structural transformation for sustainable development.
The 15 4WD hard body Toyota land cruiser mini-trucks are well-designed to access Sierra Leone's rural areas, tucked in thickets and forests with impenetrable roads. This is in line with the promise to leave no one behind in accessing quality health care service delivery among other development gains. These 15 trucks will facilitate the speedy delivery of medicines and other health care supplies throughout Sierra Leone's 16 Districts.
Handing over the keys of the vehicles to Hon. Alpha Wurie, the Minister of Health and Sanitation, UNDP Country Resident Representative (RR), Samuel Doe reminded people that, the efforts to build resilient health systems in Sierra Leone started with UNDP's interventions following the devastating Ebola Virus Disease outbreak since 2013.
In the onset, UNDP collaborated with the MoHS to improve access to quality basic health care services, promote livelihoods and economic recovery in especially the most vulnerable remote border communities in Kaliahun, Kono, and Kambia. Along with the intervention, access to clean-safe water and sanitation was provided with 88 water wells and pit latrines constructed across the three districts. This included the construction of six maternal-child health posts to improve access to and delivery of timely and efficient health services in 70 hard-to-reach communities. Sierra Leone has the world's worst maternal mortality rates "and that is a major impediment to development we must tackle as a matter of urgency" emphasized Mr. Doe.
Additionally, UNDP in collaboration with UN women trained 360 women in various aspect of maintenance and sustainability of the facilities, including basic hand-pump mechanics, monitoring and initiation of community-led committees to manage the facilities. "Health-related issues shouldn't be restricted to one agency; there should be concerted efforts from all stakeholders. Development starts with healthy people." added UNDP's RR.
The Health and Sanitation Minister, Dr. Alpha Wurie, described the gesture as a demonstration of "true fraternity and brotherhood between UNDP and the people of Sierra Leone." He reiterated that "Sierra Leone has horrendous maternal death numbers. It has always been difficult to move medical equipment from the districts stores to the primary health posts because access roads are not there, or they are impassable. These vehicles will help manage the situation and drugs and other health care supplies to health care facilities when and where they are required. That will reduce the maternal death rates."
The Director of Medical Services in the National Medical Supplies Agency thanked Global Fund and UNDP and assured the people of Sierra Leone that his agency would properly utilize the vehicles and employ innovative strategies in their effective maintenance and sustainability. "I'd like to thank UNDP for their effort at strengthening logistics capacity within the supply chain network and we are determined to enhance the cost-effective culture of regular maintenance, integrate parallel distribution regimes, ensure prompt attendance to emergency order and enhance general supply chain support and supervision."
This intervention was supported by the Global Fund assistance through the UN Multi-Partner Trust Fund for Ebola Response. UNDP will work in close partnership with sister-UN Agencies and the newly established National Supply Agency to ensure the timely dispatch and delivery of drugs and medical supplies to the most vulnerable throughout Sierra Leone.