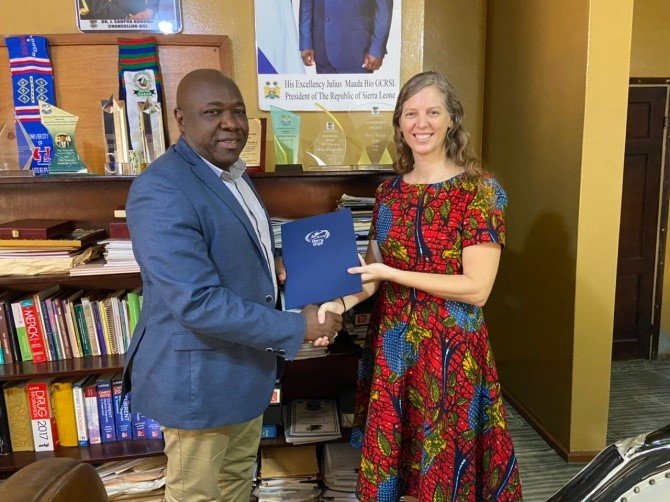 In a significant move aimed at enhancing dental education in Sierra Leone, the University of Sierra Leone (USL) has joined forces with Mercy Ships, a faith-based international non-profit charitable organization. The collaboration was formalized through the signing of a "Memorandum of Agreement" between Brig. Gen. Prof. Foday Sahr, the Vice-Chancellor and Principal of USL, and the Country Director of Mercy Ships on Monday, 24th July 2023.
The primary focus of this partnership is to train and equip healthcare professionals in the field of dental education. As part of the agreement, Sierra Leonean medical students enrolled at USL's College of Medicine and Allied Health Sciences (COMAHS) will have the opportunity to pursue doctoral degrees in Dental Surgery at the prestigious Gamal Abdel Nasser University in Conakry, Guinea.
The collaboration aims to send the first group of seven medical students to begin their training in October of this year. The comprehensive six-year program will kick off with an intensive French language training during the initial year, followed by four years of specialized dental education, and culminating with a final year of intensive clinical work at the Gamal Dental School.
A major highlight of the agreement is the significant support that Mercy Ships will be providing to the students. The organization has committed to offering financial and administrative assistance to ensure the successful completion of the program, including covering travel costs.
The University of Sierra Leone, on its part, will take on the responsibility of preparing and supporting potential candidates for enrollment at the Gamal Abdel Nasser University. This support includes assisting students in acquiring the necessary documentation and fulfilling prerequisites for enrollment.
This partnership comes as part of the Vice-Chancellor's ambitious "re-engineering" initiative at USL, which includes the establishment of a dentistry component within the Faculty of Clinical Sciences. As a result of this development, the faculty has been renamed to incorporate the Faculty of Clinical Sciences and Dentistry, further enhancing the academic offerings and medical expertise at USL.
The collaboration between USL and Mercy Ships holds great promise for the future of dental healthcare in Sierra Leone, as it seeks to equip healthcare professionals with advanced skills and knowledge, ultimately benefiting the nation's oral health and overall well-being.