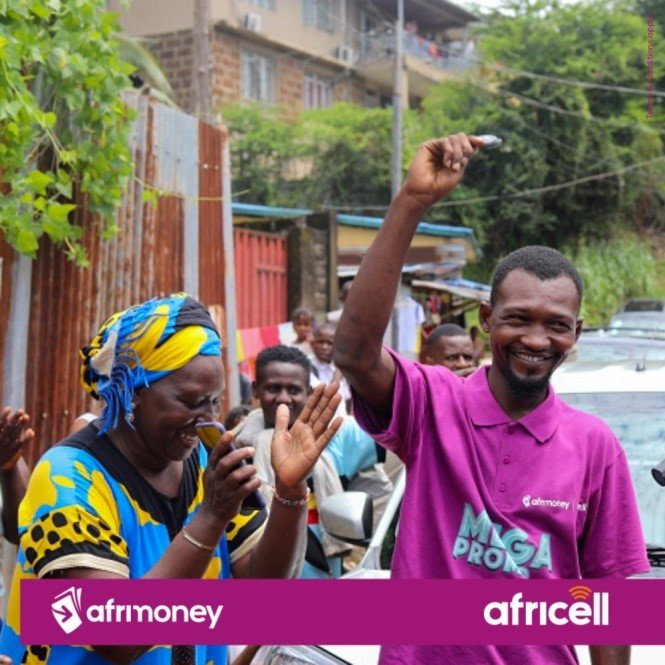 By Foday Moriba Conteh
In a thrilling moment of excitement, Africell, one of Sierra Leone's leading mobile companies, officially handed over a brand-new Toyota S. Presso Car to Alusine Jalloh, a driver, marking him as the first lucky monthly prize winner in the ongoing Africell Mega Promotion. Additionally, Julian Jonah, a Civil Engineer, was awarded a brand-new TVS Motor Bike as the fifth lucky weekly winner in this exciting promotion.
The formal presentation ceremony took place during a press conference held on Wednesday, September 6th, 2023, at the Africell Headquarters located in Wilberforce in Freetown.
Joe Abass Bangura, Africell's Chief Corporate Affairs, had the honor of presenting the car key to the first Mega Promo winner. He extended his hearty congratulations to Alusine Jalloh and encouraged all Africell subscribers to seize the opportunity to participate in the promotion by purchasing an Africell SIM card and recharging with just NLe 10. This simple act, he explained, offers a chance to win remarkable prizes, including a cash prize of NLe 250, a brand-new TVS motorbike, and the coveted brand-new car.
He noted that the Mega Promotion, launched on Friday 28th July, 2023, will run for a total of six months, from July to January 2024. Since its inception, the promotion has seen over 316 people win various prizes. Among these fortunate individuals, 300 have secured daily cash prizes, while 10 have claimed the daily cash draw prizes. Furthermore, five lucky winners have been awarded TVS motorbikes out of a total of 24, and one individual has emerged as the monthly winner, driving away a brand-new car.
Alusine Jalloh, the brand-new car recipient, expressed profound gratitude to Africell Mobile Company. He shared his astonishment at becoming a brand-new car owner, especially since this marks the second time of owning a new car. Despite working as a driver and supporting his family, this unexpected win came as a delightful surprise.
He disclosed that he has been a loyal Africell customer since 2006, having replaced his SIM card over ten times.
Alusine Jalloh recounted his history of participating in Africell promotions in the hopes of winning but had never been fortunate until now. He warmly encouraged Africell subscribers, especially fellow drivers, to continue recharging their SIM cards and urged those who had misplaced or lost their SIM cards to swiftly replace them in order to stand a chance of winning the array of prizes offered by Africell.
Providing insight into the first month of the Mega Promotion, John Konteh, the Marketing and Communications Manager, revealed that they had introduced an exciting new aspect to the promotion. Starting from September 5th, 2023, there have been ten daily winners of NLe 250 each. All ten winners automatically qualify for the grand draw, which occurs after every month.
Furthermore, weekly draws are held every Saturday to announce motorbike winners. Currently, there are five motorbike winners spread across the country, hailing from Bo, Kenema, Makeni, and Freetown, with two winners located in the capital city.
Nancy Turay, the Event and Sponsorship Manager, emphasized Africell's commitment to fulfilling its "Corporate Social Responsibility" to its subscribers. She highlighted that Africell has conducted numerous promotions and offers in the past, but the Mega Promo stands out as a unique promotion.
"To participate, individuals need to be Africell subscribers. Upon activating a new SIM card, they are automatically entered into the promotion. The more they recharge with NLe 10, the greater their chances of winning the fantastic prizes offered in the Mega Promo," she revealed.
Nancy Turay explained that daily draws are held from Monday to Friday at 8 p.m. on AYV TV and major radio stations across the country. This transparent approach ensures that everyone has an opportunity to witness the draws. She also encouraged those with internet access to follow the draws on Africell's Facebook page.
Nancy clarified that chances are not carried forward from one day to the next; instead, the daily chances reset daily. She also mentioned that credit transfers do not count towards the promotion; only recharging NLe 10 directly on an Africell SIM card qualifies individuals for the draws.
Africell's Mega Promotion continues to offer exciting opportunities for subscribers to win valuable prizes, reinforcing the company's commitment to providing exceptional value to its loyal customer base.