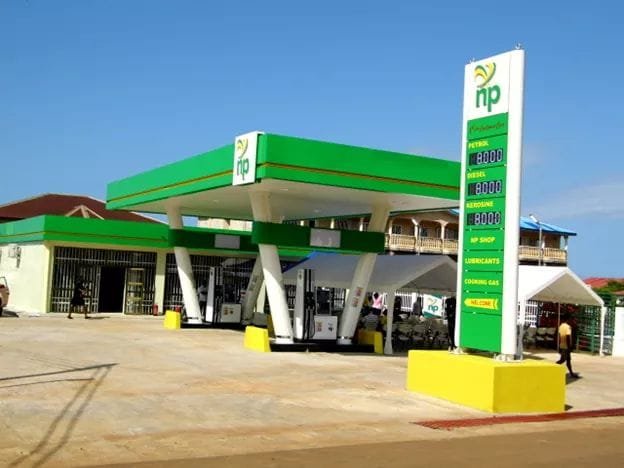 By Amin Kef Sesay
The National Petroleum Sierra Leone Limited (NP-SL Ltd) has its footprints solidly planted on the sands of time since its establishment years back by resolute Sierra Leoneans, who at that time had the utmost ambition to succeed within the business landscape not only in this country but even beyond. Indeed, through hard work and the sheer determination to make a successful breakthrough or headway a small entity turned out become a towering company that is greatly contributing to the socio-economic development of the country.
Without any iota of exaggeration, it is a 100% indigenous company that many Sierra Leoneans at home and abroad are very proud of  simply because it is a living testimony of the germination of a simple venture which transformed into an enterprising entity having branches in different parts of the country as well as in some countries within the West African sub-region that are really rendering qualitative services that give utmost satisfaction to those who transact with it.
The mere fact that the shareholders and Management of the company ventured to operate beyond the shores of this country in neighbouring Guinea, Liberia , Ivory Coast and The Gambia speaks volumes of  how aspiring the entity is to serve humanity honestly and sincerely.
NP-SL Ltd is synonymous with 1st for Customer Care as research has proven that it is a top priority which the shakers and movers of the company consider to be very instrumental with regards widening its customer base. The pragmatic application of various platforms geared towards enhancing customer care is yielding fruitful dividends.
To give its numerous and esteemed customers the best the pro-activeness of the company vis-à-vis its importation and distribution of petroleum products cannot be overemphasized as such is done in a timely manner which has ensured that for a very long period of time now there has not been any form of shortage and even when such is imminent the company steps in robustly to address such in collaboration with its partners. This unique attribute that the company possesses has earned it respect and lured many to it which is one of the underlying reasons why NP's customer base keeps soaring although there is much to be desired for.
The company is on record for dealing with its numerous customers in a very transparent manner which is why modern calibrated pumping machines were installed at the company's Filling Stations displaying the quantity of fuel required as well as the price. These sophisticated modern machines have been instilling confidence in customers that they are doing business with a very open company devoid of playing games that will cheat them in order to amass as much profits. When customers have such an optimal satisfaction coupled with being treated courteously by the company's employees then it is obvious that they will stay glued.
In order to be on top of situation, the company thought it very prudent to factor the concerns and suggestions of members of the public into its decision-making processes and such have effectively guided NP-SL Ltd to make the right choices that have helped it in its development.
Going further to give maximum convenience NP-SL Ltd introduced the use of NP Smart Card which is a latest technological gadget or device that customers can use, through financially topping up, to procure the aspired quantity of petroleum products on any working day thus making it possible to get fuel in a quick way without going through the hassle of having to wait in long queues. With this latest device one is assured of having one's fuel on Smart Card.
Many have attested that they find using NP Gas very convenient saying it is environmentally friendly, quick and could be refilled with gas that could be bought from the company. Manufactured in various cylinders this modern cooking device could be secured at the various NP Filling stations across the country and they are going at affordable prices that can fit the pockets of many households and institutions. Those who are using it recommended it as a very useful household gadget underscoring that there will be no regrets procuring one.
In the area of enhancing the Local Content Policy it is hard to come across a company like NP-SL Ltd that is effectively doing so. This could be justified by pointing out that the company has made it a hard and fast rule that as long as there are competent Sierra Leoneans capable of performing certain tasks then they should be given priority in terms of employment opportunities instead of bringing on board foreigners who at the end of the day move out of the country with large amounts of money creating economic dislocations.
From all indications NP-SL Ltd is a very successful business entity although it is not all smooth riding as there are challenges to be overcome, one of which is recovering debts owed it by other institutions but it is undaunted to forge ahead while trying to surmount them. The strides taken so far by the company are worthy of emulation and which many Sierra Leoneans must be very proud of.
Although the company is presently grappling with accessing the required amount of foreign exchange that it needs to vibrantly continue its importation and marketing of petroleum products coupled with having to recover long outstanding loans yet many are very proud of it for its positive contributions to nation building.