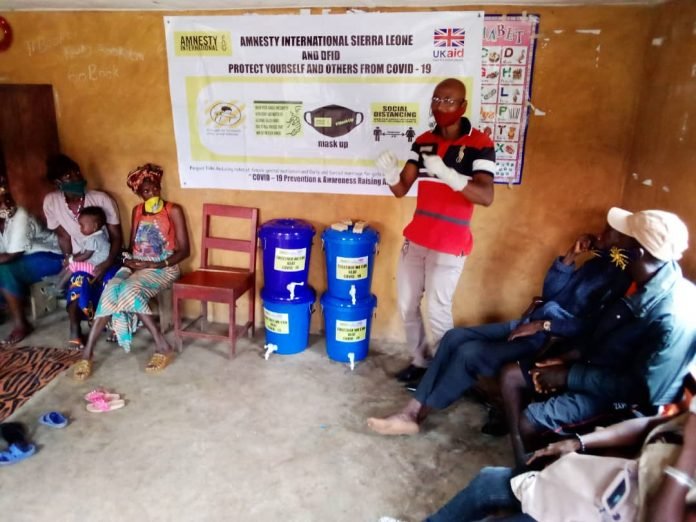 By Foday Moriba Conteh
The Advocacy Movement Network (AMNet) on Wednesday 15th July 2020, with support from Amnesty International through the Department for International Development (DFID), distributed  forty Veronica buckets and other sanitary items including cakes of soap and hand sanitizers to four communities in three chiefdoms in the Kambia District.
The donation was targeted to protect these communities from the COVID-19 virus. These communities include: Rotinfunk in Dixing Chiefdom, Kalangba in Magbema Chiefdom and  Kawula and Kirma-Banah both in Masungbala Chiefdom.
Two Secondary Schools, the Sunday Foundation Secondary School for Girls in Kambia Town, Magbema Chiefdom and Community Junior Secondary School in Kawula Town, Masungbala Chiefdom and the Family Support Unit (FSU) Kambia Division benefited from the support.
The distribution exercise was followed by a sensitization campaign on COVID-19 National Health Regulations and Guidelines put out by the Ministry of Health and Sanitation. Key points stressed during the sensitization include regular and frequent washing of hands, the continuous and proper use of face masks in all public places and maintaining social and physical distancing.
People in the various communities, especially key stakeholders, thanked AMNet and its donor partners for their continuous and timely support especially during this health crisis in the country.
They also pledged to adhere, abide and comply with the COVID-19 regulations as outlined by the Government of Sierra Leone through the Ministry of Health and Sanitation. The distribution exercise ended on Thursday 16th July, 2020.