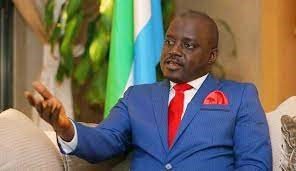 By Foday Moriba Conteh
In a recent press release, dated 13th July, 2023 and signed by the National Secretary-General of the All Peoples Congress (APC) Party, Lansana Dumbuya Esq., it was stated that the Party expressed its disappointment and concern regarding the actions of Honourable Mohamed Bangura, a Member of Parliament representing Karene District. The party accused him of blatantly disregarding and disobeying a party policy decision, leading to the initiation of disciplinary action.
The controversy arose on July 13, 2023, when Honourable Mohamed Bangura attended the opening session of the 6th Parliament of the Republic of Sierra Leone and proceeded to take the Oath of Office, contradicting the National Advisory Committee's (NAC) policy decision.
It must be recalled that the APC Party had previously stated in a Press Release on June 30, 2023, that it would not participate in any level of governance, including the legislature and local councils, due to concerns over the lack of transparency and inclusiveness in the tabulation of the election results.
The APC Party firmly believes that the Electoral Commission for Sierra Leone (ECSL) manipulated the election results to grant an unverifiable presidential victory and an unjust majority to the Sierra Leone Peoples Party (SLPP). The party demanded the ECSL to publish station-by-station election results to verify the accuracy of the announced outcomes. The decision to refrain from participation was made during a meeting of the National Advisory Committee (NAC), which Honourable Mohamed Bangura attended.
During a subsequent gathering on July 5, 2023, where all Members of Parliament, Mayors, and Council Chairpersons were present, the party reaffirmed its decision, which was endorsed by all attendees.
The APC Party cited Article 21 (h) of the APC Constitution 2022, stating that decisions of the NAC are binding on all subordinate organs, bodies, and party members. Additionally, Article 38 establishes the Parliamentary Group, comprising the party's Members of Parliament, as one of its bodies.
As a member of the party and the Parliamentary Group, Honourable Mohamed Bangura's conduct has been deemed a flagrant disregard and disobedience of the NAC's decision, thus violating the party's constitution.
Consequently, the APC Party has taken strong disciplinary action against Honourable Mohamed Bangura in accordance with Chapter 6 of the APC Constitution 2022.