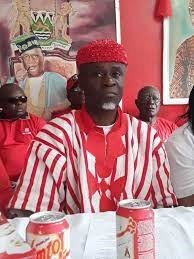 By Fatmata Jengbe
In  a Public Notice dated 27th February, 2023 signed by the Party's  National Secretary General, Lansana Dumbuya Esq,  the All Peoples Congress (APC) stated how it wishes to inform the general public that at its National Delegates Conference held in Makeni from the 18th – 20th February 2023 the following national officers (with the exception of the National Leader) were elected to serve for a term of 3 years pursuant to Article 52 (a) of the APC Constitution 2022 commencing from the 20th of February 2023 – 20th February 2026.
| | | |
| --- | --- | --- |
| No. | NAME | POSITION |
| 1. | Dr. Samura M.W. Kamara | National Leader/Flagbearer |
| 2. | Hon. Alhaji Minkailu Mansaray | National Chairman |
| 3. | Amb. Alhaji Osman Foday Yansaneh | Deputy National Chairman |
| 4. | Lansana Dumbuya Esq. | National Secretary – General |
| 5. | Hon. Osman Timbo | Deputy National Secretary – General |
| 6. | Bai Mahmoud Bangura | National Organising Secretary |
| 7. | Chernor C.S. Kamara | Deputy National Organising Secretary |
| 8. | Sidie Yayah Tunis | National Publicity Secretary |
| 9. | Mohamed Kamara | Deputy National Publicity Secretary |
| 10. | Mrs. Memunatu Koroma | National Treasurer |
| 11. | Alieu Kamara – Taylor | Deputy National Treasurer |
| 12. | Africanus Sorie Sesay Esq. | National Legal Adviser |
| 13. | Ms. Jerelyn O.P. Manly – Spain | Deputy National Legal Adviser |
| 14. | Osman Jalloh | National Financial Secretary |
| 15. | John Sorie Kabba Conteh | Deputy National Financial Secretary |
| 16. | Rev. Michael Samura | National Chaplain |
| 17. | Sheik Mohamed Lamin Kamara | National Imam |
| 18. | Hon. Wurroh Timbo Jalloh | National Whip |
The APC stated further that the following national officers were also elected at their various Special Organ elections conducted before the National Delegates Conference to serve for similar terms.
No.
NAME
POSITION
1.
Mariama Lowe Bangura
National Women's Leader
2.
Haja Ya Alimamy Manso Kamara
Deputy National Women's Leader
3.
Bernadette Nyella Kargbo
Secretary, National Women's Congress
4.
Thomas Conteh
National Veterans Leader
5.
Dr. Joseph Sam Sesay
Deputy National Veterans Leader
6.
Peter S. Mansaray
Secretary, National Veterans Congress
7.
Anthony Osman Khanou
National Leader,

Persons with

Disabilities

8.
Baby Mariatu Conteh
Deputy National Leader,

Persons with

Disabilities

9.
Raymond Buck
Secretary, Persons with Disabilities
10.
Ibrahim Prince Tholley
National Young Leader
11.
Ansu Bernard
Deputy National Young Leader Congress
12.
Ibrahim Bai Tarawallie
Secretary, National Young Congress
The Party concluded that in addition to the elections of the national officers, elections were also conducted for the positions of Regional Non-Executive National Advisory Committee Members, the Internal Auditor, National Internal Elections Management Committee Coordinator and members of the Internal Elections Management Committee.
In another Press Statement signed by Hon. Osman Timbo, as Deputy National Secretary General, the APC stated that it is with utter dismay and anguish that they make this press statement touching and concerning violent attacks on their Party officials and supporters perpetrated by state apparatus on the 22nd of February 2023 during the occasion of the return to Freetown of their Flagbearer; Dr. Samura Kamara and newly elected National Executive after having been giving full permission and cover by the Sierra Leone Police.
The APC said it could be recalled that on that day, in what was generally termed a "Triumphant Entry" of the All Peoples Congress Flagbearer into Freetown, hundreds of thousands of suffering Sierra Leoneans and party supporters flooded the streets to show solidarity for their candidate for the 2023 Presidential elections.
It continued that having seen the remarkable and spontaneous gathering of Sierra Leoneans like never seen before for a Presidential candidate, the state apparatus sprang into action to quench the peaceful solidarity  displayed and hurt the camaraderie shown by Sierra Leoneans to their candidate.
The party said it received reports of violent and unprovoked physical attacks on their National Secretary General; Lansana Dumbuya and his entourage, the driver and security personnel of the Mayor of the Freetown Municipality; Her Worship, Yvonne Aki Sawyerr, Madam Jennifer Kargbo; a former aspirant for the position of Deputy National Chairperson of the Party and the wife of the former Minister of Finance and the occupants of her vehicle, the seizure of the vehicle and other effects of Mahmoud Tarawally; former Deputy Minister of Lands, the beating, molestation and temporary detention of Rtd. A.IG. Karrow – Kamara and a multitude of other supporters and sympathizers, all perpetrated by State Security forces (Military Officers) believed to be members of the Presidential Guard Force, in no less a place but at a checkpoint spontaneously mounted close to the State Lodge at Hill Station in Freetown.
The APC said like any other unsuspecting vehicular users of the road, those people were passing by peacefully and without any crowd.
It added that their Secretary General and the passengers were asked out of his vehicle, his red cap roughly taken off his head and he was ordered to lay prostrate on the floor while his vehicle was ransacked also maintaining that they were subsequently beaten mercilessly resulting in visible physical injuries and psychological trauma. The APC pointed out that their Secretary General is still undergoing medical examinations and continues to complain of acute pain in his sides.
The Party claimed that similarly, his vehicle, money and other effects were confiscated and up till now they haven't been returned. It stated how Mayor Aki – Sawyerr's driver; Hassan Kamara and her security guard were beaten up and the Mayor's laptop and other effects belonging to her, the driver and the security guard were taken but up till now the Mayor's laptop is in police custody.
According to the APC, Madam Jennifer Kargbo was similarly harassed at the same place with guns being directly pointed at her face while they rudely asked to search the vehicle.  The APC said they threatened her and the passengers on board her vehicle and even damaged one of the door handles of the vehicle adding that as they were released, one of the guards smashed a half  filled stout bottle on her vehicle but thankfully she escaped unharmed physically.
The APC maintained that they are still yet to locate some of their supporters who were manhandled and/or retrieve the vehicles and other property taken from them.
Also, the Party again claimed that there are also reports of police brutality on their supporters at Calaba Town having been provoked by members of the Sierra Leone People's Party's Ataya base at Calaba Town.
It stated that the Police, in their trademark disproportional handling of events fired tear- gas canisters and nearly caused a stampede saying their party supporters were again beaten by police officers and bundled in trucks.
The Party said it is encouraging victims  to come out and  narrate their ordeals as they were not expecting their first press conference to be about that also underscoring that the APC is the Government in waiting and their hope was to share with supporters their programs and policies to build back Sierra Leone once they take power through the ballot box on 24th June 2023.
The APC said let it be made very clear that no intimidation tactics, harassment, arrests or bullying will scare them as they will not be fazed saying their people know what this election is about emphasizing that it is about their survival and saving the soul of the nation.
"What was clearly evident was scare on their part so they resorted to intimidation," it was claimed with assurance given that the APC will only take power through democratic means.
The All Peoples Congress said it vehemently condemns all those acts of violence, harassment and gross human rights abuses meted by State Security Forces.
The Party noted that these worrying conducts of State Security Forces do not bear well on the country's democracy adding that Sierra Leone has made a lot of gains in consolidating peace and improving the country's image in showing respect for human rights and tolerance to opposition members.
According to the party, they urgently call on the Chief of Defense Staff, the Inspector General of Police and Office of National Security to investigate those acts of violence, harassments and gross human rights abuses and bring the perpetrators to book.
It pointed out that the Truth and Reconciliation Commission cited the role of security forces in maintaining or destroying the country's fragile and hard-won peace saying they must not toy with it!
The APC said it is equally calling on the President Bio led Government to condemn those acts and facilitate the swift investigation of perpetrators to dispel any belief that the Government had any hand in the intimidation and assault of their members. It said what they demand is a level playing field for all political parties, freedom within the laws to operate just as is being done for the SLPP and its Flagbearer.
The APC said they will continue to urge their members to remain law abiding, as the APC Party, the-government-in-waiting, will not afford to jeopardize the peace of  the nation maintaining that their resolve is to see a peaceful and prosperous Sierra Leone maintaining that they will use lawful and democratic means to gain power as they refuse to be provoked.
It furthered that they are concerned about the business of ameliorating the harsh living conditions of compatriots and are busy devising workable ways to get the economy better and the nation once again on an upward trajectory.
The APC Party stated that it is focused on saving the nation of Sierra Leone and would continue to utilize all lawful avenues to make its voice heard and rely on the International Community to protect the country's peace.