By Amin Kef-Ranger
We are now in Week 5 of the Reality TV Show, Housemates Salone Season 3, with the slogan "Di Game Get Yagba, If You Nor Able Na for Pull Hand."
By all estimation and regardless of contrary views that have been expressed, which is naturally inevitable, the crystal fact remains that the ongoing Housemates Salone Season 3 Reality TV Show will go down in the annals of the entertainment industry as one of the biggest social events that are successfully being staged in the country.
The Reality TV Show is indeed truly thrilling and somehow funny generating discussions in different quarters not, particularly about how it is rolling out but rather bordering on the performances and characters of the various Housemates presently in the House.
All the Housemates are frantically putting on their best performances in order to attract votes from the wider public and what they bag in terms of votes partly determines whether some will be evicted or continue to stay in the House. Members of the public could vote as many times as possible for their favourite Housemates.
For now as the Yagba continues for the Le 250 M cash prize & a round trip to Dubai, members of the public should earnestly vote for their favourite Housemates. Members of the public residing in Sierra Leone could either start or continue to vote via Afrimoney. To do so, they should just dial *161*10*1# with the NUMBERS of the Housemates.   For International voting, it must be done via  www.housematessl.com or www.africell.sl.
If some of the Housemates appear sexy by the kind of dresses they wear then that must not come as any big surprise simply because they are expected to display nudity. Again, if sometimes they talk harshly then it is because they intermittently use strong language and acting funnily is a result of the expectation of being humorous.
Organizers of the event, Africa Young Voices (AYV) and Africell are very enthusiastic to enhance youth empowerment in the country and the Reality TV Show is one platform that is providing that.
The Housemates are benefitting from motivational lectures and added to that they are given the opportunity to socialize, learn how to play different games, how to speak fluently etc. All these empowerments, such will definitely transform the Housemates from what their characters were before they entered the House.
But financially empowering these Housemates is one of the most important channels of making them relevant in society.
It is an open secret that since its inception the African Young Voices (AYV) has been providing opportunities for young people to have their voices heard, learn new skills and meaningfully contribute to overall national development.
This youth empowerment drive is one of the cardinal objectives of this renowned media empire and it has been successfully rolling it out.
On the part of Africell-SL, the telecommunications service provider has been supporting various entertainment activities and even young artists in the country with the avowed aim of catching them young and as well providing the space for bringing out their potential which could be harnessed for productive ends.
The Reality TV Show could be viewed live, on a 24/7 basis, on AYV Entertainment Channels 34 & 33 and AYV on DSTV Channel 399. It must also be noted that Housemates Salone Season 3 is also shown on what is widely referred to as Nigeria and Ghana DSTV.
Viewers now have a wide variety of platforms through which they could enjoy watching the Reality TV Show and make informed decisions why they should vote for certain Housemates.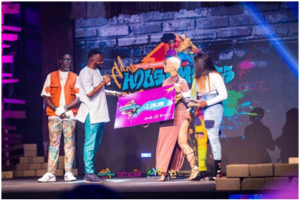 Cast your vote now to maintain your favourite Housemates in the House as eviction awaits them over the weekend.