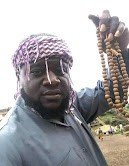 In a shocking incident that unfolded on Lightfoot-Boston Street in Freetown, notorious musical artist "Big Fish," real name Foday Alieu, met his demise on Thursday September 21, 2023, after being shot and killed by a military officer. This dramatic event has sent shockwaves through the city, sparking widespread discussions and speculation.
As the story began to circulate, various versions of the incident emerged, with some accounts filled with embellishments and distortions. To provide a factual account of the event, the Sierra Leone Police and the Office of National Security (ONS) issued a joint statement aimed at shedding light on the tragic episode in the heart of Freetown's Central Business District.
According to the official statement, the incident unfolded on the afternoon of September 21, 2023, along Lightfoot Boston Street. Foday Alieu, known as "Big Fish," had gained notoriety for his involvement in violence and criminal activities. Unfortunately, his actions on that fateful day would lead to a fatal confrontation with law enforcement.
The official account outlined a sequence of events that began when Alieu forcibly seized a rifle from a female police officer near the United Bank for Africa (UBA) on Charlotte Street. He immediately started firing the weapon indiscriminately, causing panic and chaos in the area.
Despite repeated efforts by law enforcement officers to persuade Alieu to surrender the firearm and stop his dangerous actions, he persisted in his random gunfire. The situation took a more serious turn when a military officer stepped in to convince Alieu to drop the weapon and end the violence.
Tragically, all attempts to de-escalate the situation failed. Given the severe threat Alieu posed to public safety, the brave military officer, acting in accordance with Sierra Leone's Constitution, was forced to use deadly force. Alieu was shot and subsequently neutralized.
During the confrontation, an innocent female passerby sustained a gunshot wound to the head. Fortunately, her injuries are reported as non-life-threatening. Foday Alieu's body was transported to the morgue, while the injured pedestrian received medical treatment at a hospital.
The Sierra Leone Police emphasized that the incident had been handled professionally to protect public safety. They assured the public that the situation was under control and normalcy had been restored, promising further details as the investigation progressed.
Accounts of the incident were provided by ACP Brima Kamara, Head of Sierra Leone Police Media, and a representative from the Office of National Security (ONS). According to ACP Kamara, Big Fish forcibly seized a police officer's weapon at the United Bank for Africa (UBA) and fired multiple shots indiscriminately, causing panic among bystanders. A military officer eventually confronted him, returning fire after being fired upon, resulting in Big Fish's death. Fortunately, there was only one reported casualty, a female passerby receiving medical treatment for a non-life-threatening gunshot wound.
Abdul Karim Will, representing the Office of National Security (ONS), highlighted previous complaints against Big Fish for threats and criminal behavior, urging the public to resume normal activities.
The incident has also raised concerns about mental health, with reports suggesting that Big Fish had a history of erratic behavior and may have been suffering from mental health issues. This tragedy serves as a poignant reminder of the importance of addressing mental health concerns within society.
As the investigation continues, Sierra Leoneans are urged to maintain peace and refrain from engaging in violence or unlawful activities. The Security Sector has expressed its commitment to providing security for all citizens.