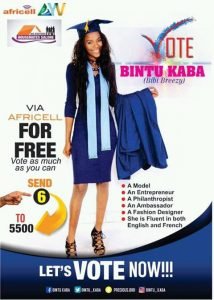 Housemate No: 6,Bintu Kabba, is truly an irresistible person with a very magnetic personality has make her become very endearing to most people who have been keenly following the 2019 Housemates Reality TV Show. Though she was born in Sierra Leone, however, she was raised in neighboring Guinea but later on returned to her country of origin and continued with her educational pursuit at the Modern High School. Currently, she is a second year student at the Institute of Public Administration and Management (IPAM).
Very multi-talented, Bintu is very good at modelling, debating and because of her background she is bilingual, fluent in English and French. Amazingly, she also speaks with ease Mandingo, Susu and Fullah, a true manifestation of someone who can go places.
Currently, in the House Bintu Kabba happens to be the youngest but that has not served as a barrier to inhibit her from thrilling viewers by outwitting the other competitors.
As the 2019 Housemates Salone Reality TV Show provides the congenial place to make relationships, Bintu became so close to Dwight Smith, Housemate No: 9 a relationship that culminated into a tight love tie between the two.
For now Bintu has become the real game changer in the House with others seeing her as a threat. This became very evident recently when a debate and later on a rap competition were organized where she performed exceptionally well in both of these events.
Some of the other outstanding abilities which she has well demonstrated include, but not limited to, being a good team player and peace broker. With the expectation of using strong language, as it is expected of them, there is gossiping going on in the House which sometimes generates heated arguments. Bintu will be there to successfully cool down tempers and restore friendship based on mutual understanding.
However, that spirit should not be mistaken as someone who is shy as she is fearless, bold and courageous.
She is the founder of a charity foundation that helps vulnerable women and children. Housemate Salone will be boring without her.
Bintu is referred to as 'Small Zainab Sheriff', not only because she is an outspoken plain preacher but also she is an inspiration to many.
There is a lot of suspense and drama behind this contestant.
This dynamic, ambitious and result-oriented young lady has a bright prospect ahead but she needs to be supported and more empowered in order to reach the top which many truly say she deserves
Housemates Salone will not be so lively if Bintu Kabba, Housemate No:6, is not among the contestants. There is no surprise why she continues to attract more votes as the competition heightens.