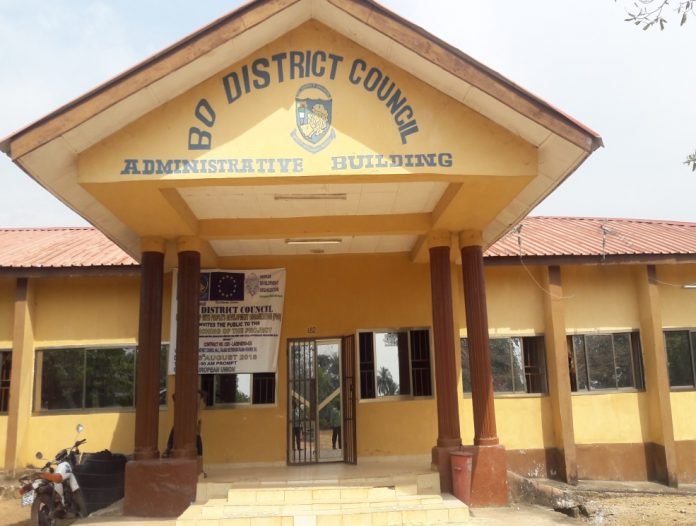 In addition to the 757,052.80 Euros grant received for the "Beteh Lan Bok Project" in 2018, the European Union has again disbursed 777,573 EUROS grant transfers to the Administration of the Bo District Council for the year 2019.
This was disclosed to a cross section of the media practitiomers in Bo by the Chairman, Bo District Council during a press conference conveyed at the Council Hall, Falaba Section, Bo.
Chairman, Bo District Council, Joseph Munda Bindi said in his quest to ensuring fulfillment and mandates of accountability and transparency, he together with staff of the Council decided to invite members of the Press, Partners and Civil Society Organizations to update them about progress, successes and challenges faced under his leadership.
Chairman, Joseph Munda Bindi said immediately after his inauguration, knowing fully the demand driven drive of the electorates for change, they developed a theme: "Navigating Change through performance" with a result based management strategy which they are using as a model to propel the work of the Bo District Council.
He said the Bo District Council (BoDC) in partnership with Peoples Development Organization (PDO) secured another grant from the European Union to implement the project titled: "Strengthening and Consolidating Education Service Delivery and Local Governance Process in Bo District".
The overall objective of the project is to improve local governance processes, access to education and service delivery for overall local development in Bo District.
The 777,573 Euros total cost for the Education and Service Delivery Project courtesy of the European Union he went on, is geared towards promoting education in Bo District.
Chairman, Joseph Munda Bindi averred that amid the untimely transfers of government funds, they as a Council were able to generate revenues collected for 2018 by revenue streams totaling Le 727, 499,866.00.
Chairman Bindi noted major successes scored under the activities undertaken for the "Betteh Lan Bok" which he said included award of prizes to best performing pupils in NPSE, developed a supervision inceptions and monitoring plan for the District Education Office, supported 300 vulnerable pupils in 50 project targeted schools (30 Primary and 20 JSS), on-going construction of Ansarul Islamic Primary among others.
Tracking progress under the Education and Good Governance Project in Bo District, Chairman, Joseph Munda Bindi underscored that after the kick off and official launch of the project, they are pleased to report the following: Actualization of the Baseline survey, revenue mobilization strategy popularization at District and Chiefdom levels, identification, mapping out of the revenue sources and setting up of revenue data base in Bo District, establishment and strengthening of mothers clubs in 50 school communities, support to the training of 25 untrained and unqualified teachers in project targeted schools in Bo District, weekly radio discussions and regular field monitoring of project activities.
He used the opportunity to catalogue major challenges and impediments for development which among others include: poor revenue generation, late and untimely disbursement of funds by Government, poor conditions of service for local council staff, Chairmen and Mayors.
Regional Chairman SLAJ South, Richard Lahai Ngevao lauded the move of the Bo District Council for their timely and prompt disclosure of funds received and cash expended describing it as plausible.
Parliamentary Representative for Constituency 088 in Bo City, Hon. Keikura C. Vandy lauded the Council for their open data and transparent leadership adding that he believes in the uprightness and fortitude of Chairman Joseph Munda Bindi
Similar sentiments were shared by the ACC Regional Manager, PRO Civil Society Forum, Manager, Action Aid, South among others.