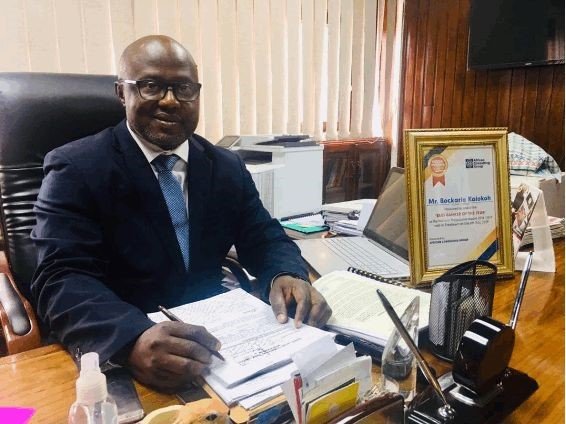 By Brima Sannoh
The convivial Deputy Finance Minister II, Bockarie Kalokoh, is widely acclaimed to be a game changer, who is said to carry with him the Midas's touch everywhere he has created lasting footprints and legacies, in educational institutions, workplaces, in communities and the State as a whole. A workaholic, who likes to see impactful results, he has been influential in turning the tides and fortunes of institutions as well as individuals through the meticulous and innovative ways with which he always do things.
His twenty-five years plus wealth of experience in the banking and financial sectors in the country as well as serving as a KPMG Financial Analyst in Nigeria has placed him at a vantage position, in his current position as Deputy Minister, to immensely contribute in finding a durable and sustainable panacea to the myriad socio-economic problems that this country is currently grappling with.
It came as no big surprise to see him being re-appointed by the re-elected President, Julius Maada, to continue to serve as the Deputy Finance Minister 11 in the Ministry of Finance as he has demonstrated proven abilities to handle his main responsibilities, which include but not limited to, formulating and implementing Public Financial Management reforms aimed at improving the effectiveness and efficiency of the public financial management system, improve revenue generation, debt management and review the Financial sector.
Indisputably,  his private sector experience makes him equal to the task as he has demonstrated proven abilities to handle them with the support of colleagues in the Ministry and other line Ministries, Departments and Agencies with whom, he has a very good rapport, being a very friendly personality who is approachable and can listen attentively before expressing his opinions.
Prior to his appointment as Deputy Minister 11, Bockarie Kalokoh was the endearing Deputy Managing Director of the Sierra Leone Commercial Bank (SLCB), said to be the leading commercial bank in the country, where he manifested sterling brilliance and initiatives that saw the rapid transformation of that banking institution by bringing it up to speed seen in the production of tangible results of the dividends that were multiplied.
Through his contributions, latest banking innovations were introduced and popularized which modernized commercial banking offering various portfolios to numerous customers including individuals and entities. Up to the time of leaving the bank, a sad experience to his colleagues there and then, his name was synonymous with  the innovative transformation that the bank went through and has positioned it as a credible bank that became endearing to many.
On the 14th January, 2023 whilst the Sierra Leone Commercial Bank (SLCB) was celebrating its 50th Anniversary at the Bank's Headquarters Car Park on George Street in Freetown he made mention that the landmark celebration was an opportune time to renew the bank's pledge and strength.
He  further enjoined members of staff to demonstrate that strength, notably, in the sector of capitalization adding that the Bank has indeed maintained the leadership of financial services in the country despite competition from foreign commercial banks.
The indefatigable personality stressed that SLCB must therefore continue to play a leading role in nation building in the future as had been in the past, noting that it must commit itself to be the key player in the inclusive financial system to stimulate economic growth.
He urged the Bank to provide the financial literacy to its esteem customers, access to credit in order to contribute to the growth of their businesses, noting that the Bank must also exploit the imminent introduction of the national switch and continue to leverage internal technologies to increase customer access to existing and new products.
Bockarie Kalokoh disclosed that the environment in which SLCB operates is anchored on nine principles including Liquidity, Profitability, Loan and Investment, Savings, Service, Secrecy and Efficiency and therefore admonished the Staff of the Bank to maximize the potential in the next fifty years.
Impressively, such admonitions and projection can only emanate from someone who means well for his country and fellow human beings.
As a patriotic Sierra Leonean, who has all that it takes to comfortable reside overseas, Bockarie Kalokoh chose rather to stay here and help make his country great by serving in-country.
Being a selfless personality, his love for country really became prominently noticeable when he decided to throw weight behind our darling Leone Stars. In 2022, through support from Sierra Fishing Company, Bockarie Kalokoh fulfilled his promise of gifting $28,000 to Leone Stars after challenging the 28-man squad of at least getting a draw in the country's first AFCON 2021 match against defending champions Algeria, a game that finally ended in a 0-0 draw.
In a privilege chat with him , he intimated that the task of turning around the country's economy does not only lie on the shoulders of public officials but on all and sundry. He averred that in as much as Government will provide the policies and resources but it is also equally important that all must put hands on deck by doing what is expected to move the country in a positive direction. He said things like honouring tax obligations, reporting graft etc will contribute in one way or the other in boosting the economy.
It must be noted that Bockarie Kalokoh has a rich and enviable academic background as he holds a Bsc with Honours in Accounting from Fourah Bay College, an MBA in Leadership from Jack Welsh Management Institute in USA and is currently a Ph.D candidate in Business Administration from Waiden University in the USA.
Kalokoh, as he is fondly called, is a man with great repute and possesses an outstanding pedigree in Banking and Finance, Leadership, Marketing, Accountancy and General Administrative Management.