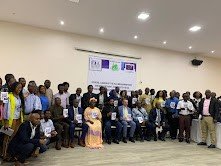 It is worthy to note that two Bournemouth University academics were very instrumental in making contributions to put a Manifesto that outlines the future of the media in Sierra Leone, an accomplishment that is unprecedented.
"The Media We Want: A Manifesto for an Empowered and Inclusive Media in Sierra Leone" was unveiled in Freetown by the Sierra Leone Association of Journalists in the presence of several dignitaries, including Minister of Information and Communication, Mohamed Rahman Swaray and the European Union Ambassador to Sierra Leone, Amb Manuel Muller.
Intended to be as a rallying call to bring the new Government, the news industry, Civil Society Organisations and the International Community together, the manifesto sets out eight priority areas for collaboration — among them, media freedom, safety and security of journalists, capacity building (including for disaster and risk reduction reporting), and gender equality.
Dr. Chindu Sreedharan, Associate Professor in Journalism at Bournemouth University and Professor Einar Thorsen, Executive Dean of the Faculty of Media and Communication, contributed to the manifesto.
"This is a major milestone in the journalistic history of Sierra Leone," Dr Sreedharan said. "It underlines the foundational requirements of building a more vibrant and inclusive media, and is designed to help engender new initiatives, policies and legislative changes that will strengthen journalism in Sierra Leone."
SLAJ President Ahmed Nasralla thanked Bournemouth University for its involvement in the development of the manifesto. "The manifesto consolidates the gains we have made in the last five years and will serve as the framework for all future interventions in the media sector in Sierra Leone," the SLAJ President said. "We are grateful for the support from Dr Sreedharan and Prof Thorsen. I look forward to working with BU and other stakeholders in following up the implementation of this manifesto once a new Government in Sierra Leone is elected. Together, we can make significant changes in Sierra Leone's media landscape."
The manifesto is based on a national survey of journalists and multiple consultations with media stakeholders and affiliate bodies of SLAJ, and underwent a validation process before it was published on 5 June.
Funded by the European Union, it has been produced collaboratively with several institutions, including the Media Reform Coordinating Group, BBC Media Action, Independent Media Commission, the University of Sierra Leone, and the Right to Access Information Commission.
Dr Sreedharan, who has served as an advisor to SLAJ for the past three years, said BU provided research-informed contributions to the manifesto in several key areas, including measures on safety and security of journalists, gender empowerment and equality, and media professionalism and capacity building.
"Our advice was informed by previous research not just in Sierra Leone, but in other nations on the DAC list," Dr Sreedharan said, "especially on the journalistic role in reducing violence against women, as well as the capacity building initiatives to mitigate the impact of disasters."
See link: https://www.bournemouth.ac.uk/news/2023-06-08/bournemouth-university-academics-help-launch-sierra-leones-first-media-manifesto