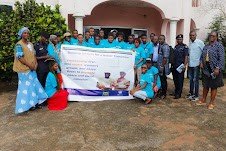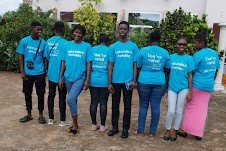 By Millicent Senava Mannah
Caritas Freetown in partnership with CRS, and with support from United Nations Peace Building Fund has held a Town Hall reflection and discussion on 4th August, 2023, with first-time voters to know their experience during and after the elections. This event was held at the Sherimem Hotel, Waterloo, Western Rural.
Giving an overview of the event, Eliza Sillah, Program Cordinator, intimated that this event is part of their implementation of their Youths in Politics and Peace Building Project will last for 24 months and how their target groups are youths within the ages of 18-24 years, which includes young women and persons with disability youths.
"This is to raise the awareness about peace and educate youths on civic rights, responsibilities, and involvement in decision making processes amongst others." She asserted.
According to her, this Project is implemented in five districts in the country, they are, Eastern, Southern, Northern, Western Union,(Kenema, Bo and Port Loko), and Western Rural regions.
"We targeted 8 communities from Western Urban(Kissy Shell, Fullah Town, Brookfields, Bonga/Crab Town, Lumley, Kolleh Town, Kroo Bay and Fourah Bay), and  8 from Western Rural, (Monkey Bush, Kossoh Town, Deep Eye Water, 5-5 Community, Hastings, Grafton, Lakka and Goderich." Eliza Sillah said.
"The goal of this project is to foster cohesion and dialogue for women, youths, and PWD involvement in Civic engagements at the national and community levels." She stated.
Eliza noted that, at the end of the Project, they hope to enhance participation of youths in decision-making processes, ensure youths are capacitated to mitigate conflict, and promote social cohesion, and also for them to engage in diversified livelihoods.
Mariama Fofanah, one of the first-time voters gave her own experience about the elections, and what they did to maintain the peace as youth groups in their community. She claimed that there were lots of irregularities, for instance, delayance in issuing ballot boxes to polling stations amongst many others, from the side of ECSL that day.
She continued that, there wasn't enough sensitization on the PR system which led to lots of invalid votes. She further stated that the issue of fake news and violence made many people unable to exercise their franchise.
Ishmael Bangura, the President for the Lakka Youths Organization, and also a first-time voter, said the entire process was stressful for him, according to him, he encountered stress during the registration, and even on the verification, and the day for election as well.
He disclosed that as an organization they were going house to house sensitizing their fellow youths on elections violence.
Addressing the youths, John P. Simbo, District Election Manager Western Rural, said that the P.R System is the best Electoral practice all over the world, and he caters for others.
He said that in the PR system, a political party wins a seat in parliament by 11.9 thresholds and that the number of thresholds they get decides the number of seats.
The Representative of the Political Parties' Registration Commission said they settle disputes among political parties and even in fight. He said they regulate all political parties, and if they breach the rules, they are fined 25,000 New Leones.
He disclosed that, the Commission is now a different body now, and how more powers have been given them, after the repealing of the Act in 2022.
The event was climaxed with presentations from others speakers, and with a question and answer session.