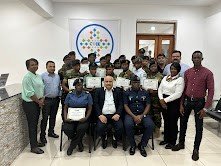 By Amin Kef (Ranger)
The College of Digital Excellence (CODE), situated on 36 Main Motor Road, Congo Cross in Freetown on the 17th February, 2023 certified twenty (20) serving military personnel of the Republic of Sierra Leone Armed Forces (RSLAF) after they successfully completed a three day Information Technology Clinic Programme which commenced from the 15th February, 2023 and ended on the 17th February, 2023. The certification event took place at the College's premise.
Delivering a statement before the presentation of certificates to the graduands, Head of the Institution, CODE, Madhusudan Mukerjee, intimated all present that the offer of the opportunity by the Management of the College to train the serving military personnel was not the first time of doing so as in the past they had extended such an offer to especially school going pupils among others.
He continued that the three days training was geared towards giving the beneficiaries the foundational knowledge in some aspects of Information Technology with the aim that after completion they will build on what they have learnt or acquired.
The Head of the Institution expressed the view that with consistent building on the knowledge they have gained, over time, they will become successful bloggers. He also maintained that what they have learnt could be applied in the performance of their duties.
He disclosed that CODE is offering a wide range of Information Technology courses and is affiliated to one of the most outstanding Universities in India adding that their Certificates are recognized internationally.
Madhusudan highlighted that classes are conducted in a congenial learning environment further revealing how their teaching staff comprised Sierra Leonean and Indian tutors.
Air Commandore, M.S Kamara, who represented the Chief of Defense Staff, on behalf of RSLAF, extended profound thanks and appreciation to the Management of CODE for what he described as a laudable gesture to the military in training some of their personnel. He said the graduation should have coincided with the Armed Forces Day which, according to him, has been postponed and will be celebrated on this Wednesday coming.
M.S Kamara told the graduands that Information Technology is very important in contemporary times underscoring that it is an evolving discipline and as such they must make it a must to build on what they have learnt so far.  "Knowledge in IT gives you speed, efficiency, security and makes you outstanding in the performance of certain assignments," he told the military personnel.
On behalf of all the military personnel that graduated, Private Isatu Kabia moved the vote of thanks. She thanked the Management of CODE for giving them the opportunity to learn. She also informed that the three days sessions were very interactive with practicals conducted.
Private Isatu Kabia assured that the knowledge they have acquired will be translated when carrying out their individual assignments within the military and expressed hope that the relationship between the College and the Military will continue to be fruitful.