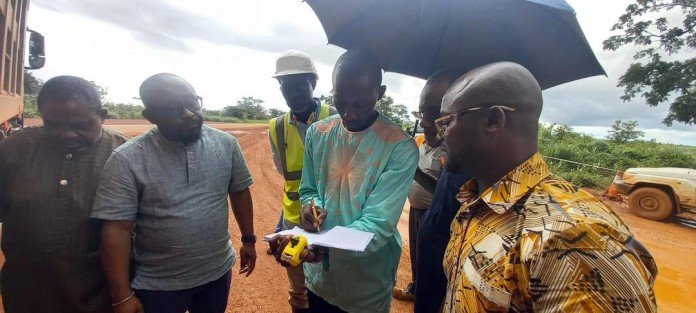 CTC Mining Company has expressed interest and responsibility to fix a damaged section on the Masiaka-Port Loko Road after a team of engineers from the Sierra Leone Roads Authority (SLRA) visited and assessed the road.
The Team, led by the Deputy Director General, Ing Alfred Jalil Momodu, visited the damaged section of the Masiaka – Port Loko Road on Friday, August 4, 2023 to, among other things, assess the extent of the damage, verify the cause of the damage and proffer solutions to fix it.
The SLRA team first visited the operational site of CTC Mining Company whose vehicles had been widely accused of causing the damage, to verify the claims.
After interviewing the Company's representatives and weighing one of the loaded trucks at the site, the team found out that the weight of the vehicles, especially when fully loaded with bauxite and other materials were more than the permissible weight that should ply the route.
Also, during a tour along the Masiaka – Port Loko Road, the team discovered other emerging problems along the road before arriving at the actual damaged section that warranted the investigation.
Amicably, the Management of CTC Mining Company accepted responsibility for the damage and expressed willingness to foot the cost of fixing the road while SLRA will provide a comprehensive assessment report and cost.
It was also agreed the engineers from CTC should team up with the SLRA's Port Loko District Engineer to do an emergency remedial maintenance on the severely damaged section in order to prevent further deterioration before the actual maintenance work commences.