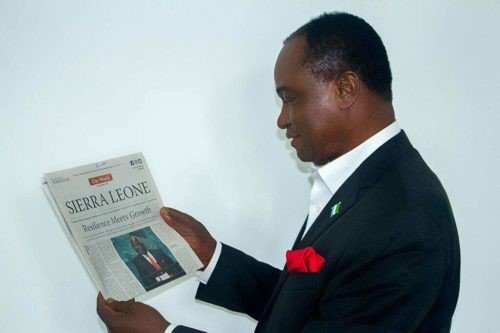 By Amin Kef (Ranger)
The APC Presidential Flagbearer, Dr Samura Kamara and his running mate, Chernor Maju Bah went through the Electoral Commission For Sierra Leone's (ECSL's) nomination process on the 1st May, 2023. However, both politicians' nominations were considered by the ECSL as provisional until the 17th May, 2023 which was stipulated as the deadline for objections to be raised with the Supreme Court.
In the ensuing politiking that has been going on within the APC political camp all geared towards mobilizing more support for the party vis-à-vis the forthcoming General Elections, hell break loose on the 17th May, 2023 for the Party as two of its senior members, former Minister of Sports-Paul Kamara and Hon. Alimamy Coleson Turay filed a court injunction in which they raised objections bordering on the eligibility of the APC Flagbearer, Dr Samura Kamara to contest in the forthcoming Presidential election slated for the 24th June, 2023.  They applied for an interpretation and determination of the following:
Whether the Transitional Interim Independent Election Management Committee (TIIEMC) of the APC was right to conduct the National Delegates Conference when a Perpetual Injunction stands preventing the old APC Executive participating but went on to constitute the ITMC that elected Dr Samura Kamara when it was the Interim Transitional Governance Committee that should have conducted the National Delegates Conference.
Whether the ECSL took into consideration the Commission of Inquiry's  adverse finding of dishonesty against Dr Samura Kamara during the nomination process; findings that were upheld or by the Court of Appeal as well as him being currently standing criminal trial involving fraud at the High Court of Sierra Leone.
Finally,  they want clarification of the National Constitution of Sierra Leone that No Political Party shall have as a Leader a Person who is not qualified to be Elected as a Member of Parliament and Section 76 (1) (D) of the said National Constitution that No Person shall be qualified as a Member of Parliament if he has been convicted of fraud or dishonesty on the premise of the findings of the Commission of Enquiry on dishonesty against the said 3rd Respondent (Dr Samura Kamara).
Before this new political development took place, Dr Samura Kamara, the APC Flagbearer, in an interview with the Voice of America (VOA), the APC Flagbearer, categorically stated that it is not accurate to say things are improving in Sierra Leone at this material time justifying that assertion by making reference to human rights reports in Sierra Leone such as the EU report, the Amnesty International and the State Department reports.
"I don't think it's accurate to say things are improving in Sierra Leone at this material time. It depends also for me on who provides information to some of these institutions, whether it is NGOs or other reporters, it based on where they are coming from, whether they are sympathizers of the current administration or they are in opposition or they are working for Sierra Leone, I will rather prefer reports are based on the welfare of the typical Sierra Leonean," he said.
He pointed out how Sierra Leone has two sets of challenges, one of which he called 'long standing nature' where he said as a nation after 60 years of independence the country cannot feed its people, there are no proper drinking water, no better electricity amidst extreme poverty.
The other he referred to as 'today's own typical challenges' which according to him are created by the Government, like dividing the country on a regional and ethnic basis stressing on the need for Sierra Leoneans to feel and see reasons for what happens in the country.
He said his lecture at Chatham House on Sierra Leone's 2023 elections was an insightful analysis of the policy alternatives and priorities for pluralism.
Dr Samura Kamara stated that as Sierra Leone prepares for its next round of elections, it is crucial to have a clear understanding of the different policy options available and their potential impact on the country's political, economic, and social landscape.
He continued that during his lecture, he shed light on the key issues facing Sierra Leone and offer practical solutions that can help promote a more inclusive and pluralistic society.
"I explored the various options available to policymakers, including economic policies that can promote development and reduce poverty, social policies that can address inequality and promote social cohesion, and political reforms that can enhance democratic governance and strengthen the rule of law," he stated in the interview maintaining that his lecture was a great interest to policymakers, academics, journalists, and anyone interested in the future of Sierra Leone.
The APC Presidential Flagbearer said it provided a unique opportunity to learn from him – a seasoned politician and policy expert who has dedicated his career to promoting progress and development in a country he do dearly loves.
He said he just concluded a meeting with the House of Commons Foreign Affairs Select Committee on the upcoming elections in Sierra Leone saying as the Presidential Candidate of the APC, it is crucial that he engages international partners and seek support for free, fair, and transparent elections.
According to him, the Foreign Affairs Select Committee is a key player in the process as they have the power to engage with stakeholders and advocate for democratic values.
He revealed that by meeting with that Committee he is demonstrating his commitment to ensuring that the upcoming elections are conducted in a manner that reflects the will of the people stressing how it is essential that the election process is conducted in a peaceful and transparent manner.
"Engaging with international partners also demonstrates my willingness to work collaboratively to ensure that the election process is fair and transparent," he said going on to state that it is a crucial aspect of any democratic process and helps to ensure that the will of the people is accurately represented.
Dr Samura said he has just returned from an incredibly successful and productive engagement with colleagues in the sub-region and international partners in Europe adding that during that trip he had the opportunity to address members of the All People's Congress both in London and Guinea Conakry.
He said his message was received with tremendous enthusiasm and appreciation by his fellow Sierra Leoneans who were inspired by the vision and direction he has set out for the nation.
The APC Presidential Flagbearer concluded by stating that the event is a testament to the strength and resilience of a great nation, and to his compassionate leadership and vision maintaining that he is confident that as President of the country he will continue to build a bright and prosperous future even for generations to come.